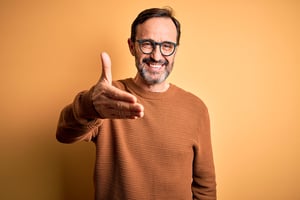 The rise of competition in the finance space is unprecedented. Fintech companies like Venmo and Paypal have been attracting younger users with social components to their apps, while tech giants such as Google and Apple have altered consumer behaviors with digital wallets. Even apps like Uber and Amazon are reshaping customer expectations with one-click ride sharing and shopping. The services these tech companies offer have a few things in common—they're fast, efficient, and digital. They also encroach on traditional banking spaces, posing a potential threat to credit unions.
For credit unions to compete in this crowded financial space, it may mean rethinking their digital strategies and investing in new technologies. Today's members no longer want to go into a branch to handle their everyday transactions. Instead, they expect to shop easily online and conduct all sorts of transactions from the safety and comfort of their phone or computer. Potential members also expect to be able to apply for a member account and be onboarded online. In fact, in the age of corona, online account opening and onboarding are essential for CUs to stay sustainable and maintain healthy growth.
The benefits of online account opening
In the past, many credit unions got by using the minimum amount of technology necessary to keep members happy. But the pandemic combined with the rise in competition from tech companies has exacerbated credit unions' need to update their digital technology, and update it fast. Now it is essential for credit unions to create a seamless banking experience to meet their members' desires.
Listed below are some of the digital services members now expect from their CU:
Mobile check deposits.
Online banking and digital wallets.
Remote balance checking and account access.
Personalized push-notifications and customer service.
Quick and easy digital lending services.
E-Signature options and document verification.
These days members want to do everything they could in a branch or over the phone, online. Furthermore, they want the experience to be fast and easy. One way CUs can work to create a seamless online banking experience is by choosing their credit union core system carefully.
Online account applications and onboarding
Many credit unions were quick to adopt digital services when the pandemic hit, sometimes in a matter of weeks and days. CUs should be given credit for their ability to make quick and difficult changes when the times called for it and for their continued dedication to members. However, oftentimes digital solutions provided by CUs involved a patchwork of 3rd party vendors and a less than perfect user experience. Also, many of the services offered were for existing members, while potential members went overlooked. In the future, it's important for credit unions to remember the digital road is not a static one, and it would be unwise to not keep improving. One area most CUs can improve is enhancing their online applications and onboarding process.
Though online account applications and onboarding systems are crucial for acquiring and maintaining new members, they can be underestimated. According to the digital banking report, nearly 20% of people abandon their online account opening, suggesting these tools are still in the early stages of development for most CUs. It is also well-known that when online account applications are slow, not user-friendly, or require a portion of the application be mailed, have exceptionally low success rates.
The writing is on the wall—people are losing patience with slow and inefficient digital banking systems. CUs that wish to thrive must do everything they can to assure their online account opening and onboarding process is as smooth and seamless as possible.
What are members looking for in an online account opening experience?
Understanding what members want and need is crucial for any credit union to survive, and currently, it's clear members want and need fast and efficient technological solutions to their banking problems. Although traditional account opening and parts of the onboarding process used to be done in-person at a branch, the current trend towards digital solutions means that process now must be handled online.
Let's take a look at some of the things an efficient online account opening and onboarding system should do:
ID verification.

Your system should be able to verify member's identities quickly, accurately and securely.
Data capture. Potential members should only have to enter their information once. Afterwards your core system should capture data for future input.
Member support. Just because it's digital doesn't mean quality service should be abandoned. Members still want personalized support and the ability to ask direct questions to staff.
Approval process. The approval or follow-up process should be immediate or within one or two business days. Speed is key to online account opening.
Funding the account. Potential members should have various options of how to fund their account.
Instant access and seamless onboarding. Approved members should have instant account access and be onboarded and shown the tools and services the credit union has to offer.
CUs should understand that the goal of online account opening and onboarding is to create a frictionless experience for potential members. After all, this is your first chance to show potential members the type of service your CU offers and to get them excited about joining your team. Choosing the right credit union core provider is one of the best ways to create a seamless online account opening and onboarding process and further enhance your CU's digital banking services.