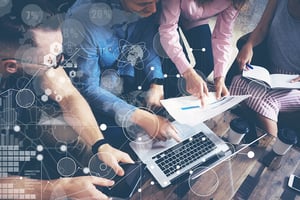 Let's face it, the world has changed drastically since the beginning of the pandemic. We're now living in a digital age where people want digital solutions to problems that used to be handled in person. This has had a huge effect on how all sorts of businesses operate, including credit unions. The days of credit unions conducting most of their business in the branch are over, and unlikely to return.
Credit unions must adapt to the times or it will be a tough road ahead. This means providing members with digital banking solutions that can simplify their lives, while also creating a satisfying member experience and not losing touch with the core tenets of the credit union. In 2021 and the years ahead, having a digital banking game plan is critical for credit unions to stay competitive.
The new must-haves of digital banking
Credit unions not only have to adapt to changes in consumer behaviors, but they are also competing with fintech companies that continue to encroach into digital banking and lending spaces. Venmo and Paypal have attracted younger generations with social aspects and features, and apps like ApplePay and GooglePay are setting the bar for what people expect from digital banking services. In this innovative and crowded financial climate, credit unions must elevate their level of digital banking if they wish to stay relevant.
One way credit unions can begin to lay their digital game plan is by choosing their technologies wisely. The right core system provider can help CUs leverage existing member relationships to provide the services and products members want and need.
Listed below are some of the features members expect from digital banking services that need to be considered as part of the plan:
Digital bill pay.
Remote deposits and direct deposits.
Digital lending services and eSignatures.
Safety and security.
Personal member service.
P2P options.
Another feature of digital banking that's become huge for CUs since the pandemic is digital account opening and member onboarding. To be sustainable, CUs must not only maintain their existing members, but also attract new members and grow. These days, CUs can't expect potential members to make branch visits to open an account, especially when so many competitors offer digital account opening.
Although many credit unions have long since offered online banking and some types of digital services, digital account opening is still in its growth phase. That's why it's no surprise that a recent survey found that streamlining the digital account opening process for new members was a top priority for 80% of banking institutions.
Credit unions that choose the right core software can enhance their identity verification and e-Signature options, making digital account opening and member onboarding more secure and effective. This will be crucial for credit unions in the coming years.
If your credit union is laying out your digital game plan for 2021, choosing the right core provider is the best way to start the foundation of your digital ecosystem. A core system technology like FLEX can develop software that fits your CU's needs and provide integrated connections to the products and services your CU offers.
Download the FLEX Digital Lending eBook to explore mapping the members journey, digital application best practices, security topics to consider, analytics tips and tricks, and marketing insights.