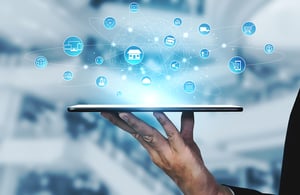 A cashless society is a common theme in science fiction novels. But with the rise of digital banking and cryptocurrencies, together with global crises and tech-savvy consumer demand, those works of fiction are becoming closer to fact. Cash is not going away, at least not anytime soon, but the popularity of non-cash transactions continues to grow.
For example, contactless payments--the so-called "tap and go" on a smartphone or "wave and pay" of a debit card--is a favorite payment method of younger consumers who prefer the speed, simplicity, and security of this new approach. And Gen Zers, young adults in their 20s, will represent more than 4 million of 6.5 million new mobile wallet users through 2025, according to an EMarketer analysis.
In addition, Peer-to-Peer (P2P) real-time payments have become big business. Zelle has emerged as one of the leading companies in this niche, accounting for a remarkable 1.2 billion transactions in 2020.
Design for today, be ready for tomorrow
What does all this mean for credit unions who want to address the needs of their members while preparing for the future? The key is to offer a range of options that suit member preferences and needs while addressing ongoing change. Let's take a quick look at some of those options.
Account-to-account transfers

enable members to directly transfer funds to other credit union members on-demand or at a scheduled time.

Card programs

give customers real-time access to their card information via the internet or mobile banking--

without the need for a third party.

External account transfers

enable

members to link their online banking account with other financial institutions outside of your credit union. Transfers can be set up as recurring or one-time payments.

A Simplified member experience

allows members to make a credit card payment and see their balance directly in their internet banking account. This takes out a step--logging into a separate application--and gives members account information right at their fingertips.

Enhanced security.

Today's consumers are worried about security breaches that can provide hackers with personal data and lead to identity theft and other issues. Credit unions must enhance their network security to address member concerns about security issues.
Over the years, credit unions have built a reputation for excellent service. Offering members numerous transaction options will help reinforce that core strength as society heads towards a more cashless tomorrow.
Next steps for credit unions
With the right credit union core platform partner, it's possible to keep the best of traditional cash-based services and add options that appeal to digital natives. So what's a credit union to do? One area to consider is to offer the ease of peer-to-peer real time payments by creating a digital banking platform. FLEX has partnered with Zelle to bring your credit union members a fast, safe and easy way to send and receive money with people and businesses they know and trust--typically within minutes. Download the eGuide to learn more about this simple and seamless banking option.