To Zelle® or not to Zelle®? That is the Question.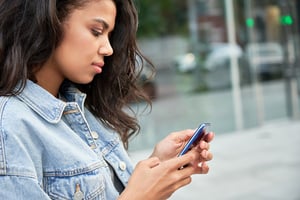 In the current digital age, it is crucial for credit unions to provide members with convenient and effective digital banking solutions. As more and more members turn to online banking to pay bills, shop online and send or receive money, credit unions who fail to adapt to the times risk losing lifelong members.
While it's obvious that digital banking solutions are a necessary part of running a successful credit union, deciding which digital payment network to offer your members may not be. One of the most popular digital payment networks serving credit unions and their members is Zelle. The payments network boasts exceeding one billion payments within twelve months, setting a new record. Let's have a look at why Zelle has become so popular.
The benefits of using Zelle
Zelle makes peer-to-peer money transfers fast, easy and secure. Since it was rebranded and launched its app in 2017, the Zelle platform has continued to expand its services to banks and credit unions all over the country. In 2019, the company reported processing over 180 billion dollars in payments.
Credit unions who offer Zelle directly from online and mobile banking make sending and receiving money more convenient while delivering features and benefits such as the following:
More people banking online

. Since the pandemic began, the number of people using digital wallets and online banking platforms has gone through the roof. Across all ages and generations, we've seen a heavy increase in mobile banking app options.

Quick transfers

. Zelle allows you to send and receive money from anyone who has a U.S. bank account. The transfers are almost immediate and very secure. In fact, according to Nerd Wallet, Zelle is ranked one of the fastest domestic transfer apps.

Free transfers

. There are no fees for members using Zelle to send or receive money within mobile or online banking, and payments can be sent using only an email or phone number.

Convenience

. Members can use Zelle for all sorts of daily activities that in the past required in-person interactions. From splitting bills and groceries to ordering food or sending money to family, Zelle offers members a convenient and safe means to go cashless.

Security

. Since

Zelle is a bank-backed app that doesn't use a third-party for money transfers, your money is always insured. This makes

Zelle

even safer than carrying cash in a physical wallet or sending checks. Furthermore,

Zelle

is always working to improve security and prevent fraud and hacking from occurring.

Seamless integration.

With the right core technology, Zelle seamlessly integrates within your credit union's existing online banking platform and mobile app removing the need for members to download additional apps. Currently, over 100 million mobile banking customers have Zelle access through their online banking apps.
In the few years Zelle has been in existence, the company has grown by over 70% and can now compete with some of the most popular P2P platforms like Venmo and Paypal.
How is Zelle different from other payment apps?
The rise in popularity of digital payment applications like Venmo and Paypal have made waves through the financial industry. These apps make it easy to send and receive money and have social aspects to them that have led to their increase in usage, especially among millennials. Venmo users, for example, can enjoy some of the same features as social media platforms like Twitter and Facebook. They can make personal profiles, have a network of friends, like and reply to posts and even send emojis.
While Zelle also enables members to make peer-to-peer payments quickly and effectively, there are some differences between Zelle and other digital wallet applications.
One of the main differences between Zelle and Venmo and Paypal is when you send or receive money with Zelle, the money is transferred directly between bank accounts. While Paypal serves as an intermediary between financial institutions, Zelle does not use a third party to transfer money, which makes the transfers almost immediate and more secure.
Zelle payments are intended to be sent to known parties who the user trusts and knows. Zelle can also integrate directly within your existing mobile banking app and desktop banking application, providing a professional and trusted user interface experience. Lastly, unlike Venmo and Paypal, Zelle does not have a social element to it and does not charge any fees to members for using the service.
Preparing for the future
Consumers in the US spent over 200 billion online during the second quarter of 2020, a 30 percent increase in e-commerce sales from the first quarter. As states begin to open and people return to brick and mortar stores, these numbers may start to decline a bit. However, the sheer volume of people who've been exposed to digital banking solutions over the past year will likely have an affect on the industry for a long time to come.
For credit unions looking towards the future, it's vital to consider what online banking and digital wallet solutions your members want and need. Although there are many options available, Zelle has proven to be a major competitor in the P2P market by providing an efficient and trusted service that continues to grow and increase in popularity.