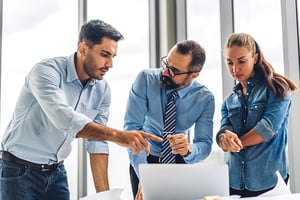 With the rise of digital banking, it's become increasingly important for credit unions to enhance their Digital Member Services (DMS). Moving in the direction of efficient and seamless digital solutions when it comes to member services is crucial for the survival of credit unions in the digital age. But it is also important that CUs do this while still providing the personalized member service experience that members expect.
Fortunately, with the right credit union core provider and Digital Member Service platform, your credit union can actually enhance your relationship with members, free up time for your associates to focus on other tasks, and boost the overall growth and efficiency of your CU. Let's have a deeper look at the big benefits a DMS platform can bring to your credit union.
The rise of Digital Member Services in 2021
Times have changed and credit unions can no longer expect members to put up with slow, inefficient digital services, especially when it comes to DMS. These days, members expect a seamless digital banking interface that enables them to navigate smoothly between advanced banking features at a rapid speed. CUs can ride the wave of digital banking into a prosperous future, but to do so they must pay special attention to their member service delivery and make sure it is on par with the rest of their digital banking features.
Three benefits of Digital Member Services
1) Enhanced member experience: Improving your overall member experience, your members are more likely to stay loyal to your credit union. By improving member retention rates, you can significantly increase your credit union's profits each year. The right technology can also help you consolidate multiple avenues of communication (video, chat, messaging, etc.) into a single, seamless system. This will allow associates to focus their time on providing members with the services they want and need.
2) Improve member acquisition: Acquiring new members has always been important for credit unions to grow and thrive. DMS can improve real-time lead generation and also walk members through the onboarding process. Providing a seamless, user-friendly onboarding process will increase your conversion rates and boost profits.
3) Exceed member expectations: These days, it's not enough to simply provide the basics when it comes to digital banking and Digital Member Services. Members want a Digital Member Service platform that can provide a fast, easy, seamless and efficient experience.
If your credit union wants to enhance your Digital Member Service or digital banking platforms, choosing the right technologies to partner with is crucial.
Partnering with a digital member service platform
In an ever increasing digital landscape, member preferences have evolved. Conventional telephone and web services are no longer enough to satisfy member demands. CoBrowsing provides valuable visual "observation" and allows credit unions to "show" members not just "tell". FLEX has partnered with Glia to break down the walls of traditional member support by combining all support communication means into one unified digital member service experience.