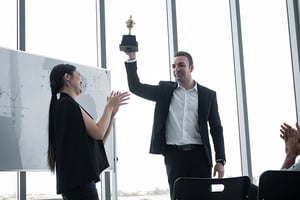 As mobile banking continues to rise in popularity throughout the United States and the world, credit unions must pay special attention to the types of features they offer in their mobile app or they risk getting left behind. But how exactly do credit unions create a mobile banking app that not only handles the basics, but goes above and beyond setting itself apart from the rest of the competition?
The first step is understanding how Fintech companies and the increased usage of mobile phones have made offering a mobile banking app an essential part of any successful credit union.
The second step is knowing that the CUs who will thrive in the future are the ones that can successfully combine basic mobile banking app functions with high-value features into one seamless, efficient mobile banking experience. Choosing the right core vendor to provide the foundation for your CU's mobile banking app can help your credit union succeed.
Getting the basics right with your mobile banking app
Before considering the extra features that will set your mobile banking app apart, it's important to build a strong foundation and cover the basics. Members want a mobile app that is user-friendly, frictionless and capable of providing basic services that they want and need on a regular basis.
Some of the functions that members use most frequently and that should form the basis of a mobile app are remote check depositing, bill pay, the ability to check account balances, and money transfers. These services should be fast, reliable and easy for members to access when they use your mobile banking app.
Going beyond the mobile banking app basics
To distinguish your mobile app from the competition, credit unions must offer high-value features that members and potential members are looking for. Listed below are a few of the features members are looking for from their mobile banking apps:
Alerts: Alerts can notify members of large withdrawals, successful transactions, and services and promotions from your credit union. Credit unions can take advantage of alerts and messaging on their mobile banking app to enhance their relationships with members providing a personalized experience.
Security: Members want to know that their personal and financial information is being protected. Biometric authentication, card controls, managed PIN functionality, and

digital card issuance

are a few of the security measures that can be utilized in your mobile banking app.

Digital lending

options: The demand for fast and easy loan processes through a digital banking app is on the rise.
ATM and branch locators: Just because there is a trend towards digital banking does not mean members won't need access to branches and ATMs. Built-in ATM and branch locators in your app is a good way to help members find the services they need.
Speed: Fintech and

e-Commerce

companies have reshaped consumer expectations when it comes to transaction times. Whether sending money to a friend or applying for a digital loan, members want the process to be fast and immediate.
Extra services: CUs can also offer rewards programs, personal finance management, and other extra services through their mobile banking app.
How to make your mobile banking app stand out in the crowd
It's not enough to build an award-worthy mobile banking app alone. Credit unions that partner with a core provider to build a core-driven mobile app are able to consolidate vendors and create the type of seamless mobile banking app their members want. That is the key to creating an award-worthy app that members will enjoy and tell their friends about.
Core technologies like FLEX that develop software can help your CU provide a seamless online banking and mobile banking app experience on whatever device members choose to access your site. Don't let competition from Fintech companies or changes in technology keep your CU from doing what it does best—serving its members. Our guide to Mobile Banking is a great place to start. It's full of tips and ideas to help you create the ultimate mobile experience.