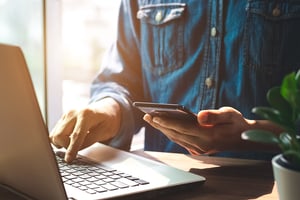 The growing demand for digital banking services and the rise of fintech companies into the banking space means that credit unions (CUs) have to change the way they do business in order to stay competitive. Members now want access to a variety of online banking services, and the credit unions that fail to provide them likely won't be around too much longer.
It's also important that CUs make sure their mobile banking app is as fast and efficient as possible. There have been huge changes in customer behavior over recent years, and fintech companies have set a new bar for speed and efficiency. While trying to keep up with the innovation of fintech companies can be difficult, the first step is to understand what your credit union can do to improve your mobile banking app.
Simplify your credit union's mobile banking app
These days members expect a smooth and easy digital banking experience. That means deciding what to put into your online banking app—and what to leave out—is crucial. Overloading your banking app can slow down functionality and make for a poor user-experience. An overloaded banking app can also frustrate users by making important features difficult to find. When there is so much competition in the digital banking space, creating the best user-experience for your members is vital.
Here are some important points to consider if you are making changes to or designing your online banking app:
Top features:

Give priority to top-ranking banking features and structure your app so that these features are easy to find. Members should be able to check their balances and see recent transactions without having to navigate through too many layers of the app. Also, avoid lengthy introduction pages to tasks or anything that could slow down the experience.

Cut the financial jargon:

Remember, not everyone works at a credit union or in finance, so don't confuse your members with complicated credit union and banking terminology in your app or on your webpages. Rather than filling your app with terms most members don't understand, such as peer-to-peer payments, keep it simple. For example, "sending money to a friend" is much clearer than P2P payments and won't be off-putting to members who aren't tech or financial-savvy.

Reduce friction:

Having too many third-party vendors involved in your banking app could cause members to turn to faster fintech options. The new normal is that members want to make transactions immediately, check their balances and even apply for

digital loans

. They want a seamless digital banking experience and that's what your digital banking app should provide them with.

Choose the right core provider:

One of the best ways to reduce friction, and the need for third-party vendors, is by

choosing a core provider

that can deliver a uniform and seamless mobile banking experience to members. The best core providers build their own software and automatically store back-end member data in their system.
Creating a fast, efficient, and easy-to-use credit union mobile app can seem like a daunting process. Luckily, there are core provider solutions such as FLEX that can help your credit union get started.
Understand the Pareto Principle and how members use digital banking apps
The Pareto Principle, also known as the 80/20 rule, states that 80% of the effects come from 20% of the causes. This rule has been applied to many facets of business and it also applies to mobile banking usage. Most members will use your credit union's app to perform the following six functions:
Checking account balances or recent transactions.

Transferring money between accounts.

Reviewing alerts (push notifications) from the credit union.

Making a deposit.

Making a bill payment.

Locating the nearest ATM or branch.
While these six features are the most used functions, they make up a very small portion of what a mobile app should be capable of—thus the 80/20 rule where 80% of the member's time is spent with only 20% mobile app functions. Knowing that most people use mobile banking apps for these six reasons should help your credit union to structure your mobile banking app and make sure these options are easily available and convenient to use.
Choosing a core technology for your online banking app
One of the first steps your CU should take before designing or re-designing your mobile banking app is to narrow down a list of credit union core providers. One core provider, FLEX, has been used by all types of credit unions to enhance their mobile and online banking services over the years.
Furthermore, FLEX is aware of the features that members use the most and has designed an app that ensures a frictionless experience in this vital 20%. This means:
Balances are shown on the home screen

History is easily accessible with one touch

Transfers are intuitive

Push notifications are built in, straightforward and informative

Remote check deposit is a common sense process

Bill payment (no matter the provider) is integrated directly into the app

Finding an ATM or branch near you is right at your fingertips
FLEX understands that if you rock the basics, you'll rock the member experience. And happy customers mean ongoing success and growth for your credit union.
To learn more about creating the ultimate mobile app experience for your customers, download FLEX's Guide to Mobile Banking: