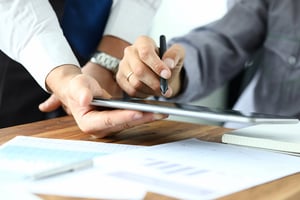 As credit unions turn to digital solutions to meet their member's changing needs, in-branch transactions and manual processes are rapidly becoming a thing of the past. Such digital transformation throughout the financial world is here to stay, and CUs must adapt to survive and thrive.
One area that is particularly important for the survival of credit unions is digital lending. The rise of Fintech companies such as PayPal and Venmo has increased competition in the banking world and created new expectations for members. People now expect fast and simple digital lending options, and the CUs that are able to leverage modern technology to improve their digital lending practices will be the ones that thrive in 2021 and moving forward.
How to increase the speed of your CU's digital lending process?
In 2020, e-commerce sales went through the roof as people started shopping online for their everyday needs. Companies like Amazon and Uber reshaped customer expectations with one-click shopping and one-click ride share, making speed and efficiency the key to any online purchasing experience, and as fintech companies rose in popularity especially among younger users, we've seen a rise in the use of digital wallets and digital lending practices.
To keep up with the pace, it's essential that credit unions learn how to provide a digital lending experience that's fast, easy and secure. Here are few ways credit unions can enhance the speed and simplicity of their digital lending processes:
Capturing data

.

One of the challenges of providing a fast and simple digital lending experience

is how much data you require a member to enter when filling out a loan application. The more fields and steps the user must go through, the higher the chance they will abandon the application altogether and seek an alternative solution. Credit unions should review their digital lending process to identify areas where prospective borrowers drop off. They should strive to capture the necessary data for the loan application while making the process as seamless and user-friendly as possible.

eSignatures

.

The ability to sign documents electronically is fundamental to the digital lending process

. Without eSignature technology, members are required to sign documents and forms in person, which will likely lead to a spike in abandoned loan applications.

Loan decisions

. Your online loan application may be fast and simple, but if the time required for a decision exceeds member's expectations, they could take their business elsewhere. Make sure you understand member expectations and try to speed up your decision-making process as much as possible.

Security

.

When applying for a loan, members want to be sure their personal and financial information is secure. Utilizing a credit union core software solution that delivers multiple high-level safety and security protocols will help ensure member information is protected.
Creating a fast and simple digital lending experience for your members and other potential borrowers will be critical to CU's survival. One way that CUs can enhance their digital banking and lending options is by choosing the right credit union core software.
The right credit union core software will allow CUs to modernize their online banking systems providing members with digital lending services, eSignature options, and a seamless and secure digital banking experience. This type of technology will also help create a frictionless digital lending experience for non-members so that your credit union can continue to grow.
Learn how a Long Island City, NY-based credit union grew their loan portfolio through the adoption of digital lending strategies.