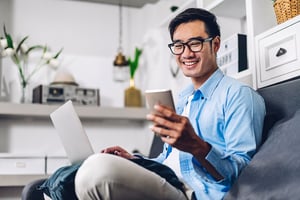 Consumers are filled with expectations of service providers that are often at odds with each other. They want service to be both expedient, but thorough. They want customer service interactions that are friendly, but formal. They want to have attention paid to them, but not too much. They want access to be convenient, but they demand that access be secure. Convenience and security, especially in the financial sector, require a delicate balance. The more you increase security measures, the less convenient a process becomes. But make a process too convenient by reducing security measures and you put both the user and the service provider at risk. It is this balance that credit unions must achieve to be successful.
With the unprecedented, and rocket-speed, rise in demand for digital services in the last year, convenience became paramount. Credit union members, and prospective members, needed to be able to access account applications, loan applications, money transfers, bill payment and more from the safety of their homes. Credit unions needed to reengineer their processes to validate these members were in fact who they said they were without ever meeting them face-to-face. As a result, security measures needed to be deployed to ensure those end users were transacting legitimately and safely, to prevent risk to both themselves and the credit unions they were transacting with. Fortunately, the foundation for these safety protocols was fairly well established as the industry has been on this path to "all digital" for several years.
Safety for the Credit Union
While credit unions must respond to the demands for convenience of their membership, they must also protect themselves. When it comes to accepting new members digitally, there are certainly risks when there can be no in-person verification. But there are simple steps a credit union can take that mitigate the majority of those risks:
Communicate clear application requirements
Require Government-issued ID/Drivers license/State ID or passport with current address
Require an additional proof of address such as a utility bill
Require a social security number or Individual Tax ID number
Require proof of birth date
These requirements are not outlandish nor overbearing and can be made more convenient with the support of the right technology within their core processing software. There are many credit unions that have seen great success with their security measures through innovative core software. Railway Credit Union in North Dakota suggests that applicants review the eligibility requirements before applying and lay them out very clearly. They then request a few pieces of identification. Greater Niagara Federal Credit Union in New York and Firefighters Credit Union in Utah both outline terms and conditions of membership, offer a phone number for questions, and provide a simple list of requirements. All of these credit unions provide an application process that is both convenient and secure, protecting both themselves and their members.
Safety for the Members
Security is a two-way street. It is a necessity that credit unions operate with security front of mind, but members have a role to play as well. Savvy members should be on alert when accessing credit union sites that don't seem to ask enough questions, or the right questions, when sharing their personal information. They should also look for the indicator in their URL search bar that shows a small gray padlock. This is a sign the credit union they're applying to values security and is encrypting their information before sending it over the internet. Also, when applying or setting up a new account, use a strong password and opt in for multi-factor authentication (MFA) if offered. MFA may come in the form of a code sent via SMS to their smartphone, or a biometric scan via their phone.
Security and Convenience are not at odds
Credit unions must work harder than ever at developing convenient digital member services while not sacrificing security, for themselves nor for their members. Leveraging their technology and defining smart best practices can ensure that the credit unions assets are protected while the member experience remains desirable.