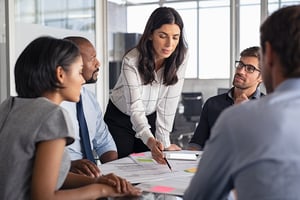 The game has changed for credit unions when it comes to how they service their member's needs, especially in terms of digital lending. Because of the rise of fintech companies and app-based financial services, credit union members now want access to fast and easy digital lending services. Although that doesn't mean branch visits and personalized attention are a thing of the past, CUs who wish to compete and thrive in the future must come up with a well-thought-out digital strategy.
Although the digital lending space is crowded with competition, there are still great opportunities to be had for credit unions who make wise choices about building their digital infrastructures. One way credit unions can make progress with their digital lending platform--and gain a leg up on the competition--is by implementing a comprehensive digital lending plan that complements and highlights their existing strengths.
Member relationships and other credit union strengths
At the heart of every credit union is the desire to provide members and communities with the financial services they want and need. It's now clearer than ever that members value speed, security, and efficiency when it comes to digital banking and online lending.
As credit unions implement their digital lending plans, they should continue to cultivate member relationships by creating a digital loan process that is user-friendly and puts members first. Listed below are some of the advantages credit unions can use to improve their digital lending experience:
Existing member loans

. Lending has always been fundamental to the sustainability of CUs. Finding ways to satisfy this existing member base will be key for the future of credit unions.

Member relationships

.

Some fintech companies specialize in easy, near-instant access to digital loans. However, they don't come close to credit unions when it comes to personalized attention and a commitment to the communities

they work in. Going digital doesn't mean letting go of personalized attention and service. In fact, the right digital lending plan should help your CU enhance its relationship with members.

An integrative system

.

Members want a seamless online banking experience

and digital lending process no matter what sort of device they use to access the internet. The right credit union core software can deliver your entire mobile banking app, online banking system and digital lending platform into one fluid, member-friendly experience. From

eSignatures

options to

member onboarding

, core software can help you create a seamless online banking experience for members.
In 2021, a new bar has been set in the digital lending space, and many CUs still have to catch up. As members and potential members demand faster digital loan approvals, enhanced cybersecurity, and an easy to use, seamless digital lending experience, CUs must adapt to the times.
Implementing digital lending plan strategies
One of the most important decisions CUs must make moving forward is choosing the right credit union core provider for their online banking needs. Many credit unions have chosen FLEX, which can help your CU seamlessly deliver your online banking system and take full advantage of your strengths. The future will be competitive, and the CUs that take a comprehensive strategy towards digital lending will more likely than not be the ones who come out on top. To help you get started, download the FLEX 360° Lending eBook so you can fully understand your options.