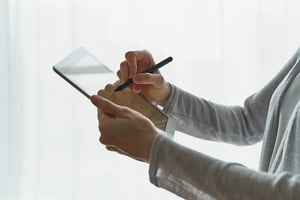 In 2020, the coronavirus forced credit unions to shut their doors and rethink how they do business. With branches closed and the lockdown in full effect, it became clear that members wanted digital solutions to handle all their banking transactions. Suddenly mobile banking, digital wallets and digital lending platforms became crucial for the survival of credit unions.
One of the most important elements needed to provide credit union members with the digital solutions they desire is electronic signatures. eSignatures allow members to sign important documents remotely and are vital to the digital lending process. Though eSignatures can increase the speed and efficiency of your credit union's digital lending process, implementing them is not always as easy as it sounds. Let's take a look at some of the challenges with implementing eSignature technology at your credit union.
Understanding electronic signatures in digital lending
In the future, electronic signatures will be even more crucial for credit unions. Nearly 75% of millennials say they prefer to sign documents remotely, and nearly 50% of people ages 55-72 agree. When it comes to digital lending, the last thing your CU wants to do is have members go through a digital loan application only to have to come into the branch to sign the final documents. This is a sure way to lose potential borrowers.
Instead, to provide the fast and secure digital lending options your members want and to compete with the encroachment of fintech companies into the credit union space, your credit union must have secure and efficient eSignature capabilities. If your credit union is new to eSignatures, it's important you take some time to understand how they work and what the risks are. Below are some key points to consider about eSignatures:
State and federal laws

.

Because credit unions are financial institutions, they are governed by more extensive oversight than most businesses, both on the federal and state level. When implementing eSignatures at your CU, it's important that all federal regulations and standards are met. You should also stay up to date with upcoming legislation that is currently being proposed and that could modernize and hopefully improve the existing laws.
Security risks. eSignatures are not completely risk-free, and credit unions should analyze what level of risk they are willing to take when implementing them. In some instances, CUs may decide to use a hybrid model where eSignatures are used for minimal risk situations and physical signings can be used for higher risk situations.
Digital documents

.

Some credit unions never destroy digital loan documents, so their storage needs can be extensive. You may need to upgrade your technology or choose a new CU core provider to store and protect digital documents and implement procedures like a disaster recovery system. Credit union core technology can help you lay the core groundwork to support digital documents.
Choosing the right credit union core technology is one of the best ways to enhance your digital banking capabilities, including your digital lending and e-signature options.
FLEX core software has been used by credit unions of all sizes to seamlessly integrate eSignature providers into a coherent, user-friendly experience for members and staff. With the FLEX core system, you can provide a quality digital lending experience your members deserve.