Tips to Improve Credit Union Cybersecurity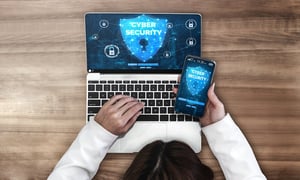 Cybersecurity is a systemic risk that affects all levels of business, government and ordinary people. It is such a high-risk area for credit unions that the National Credit Union Administration (NCUA) placed cybersecurity as a top focus for exams. As the cybersecurity world continues to evolve, it's important that your credit union is prepared for possible threats. Be proactive and shield your credit union from the ever-changing cybersecurity universe now.


Effective Risk Management
To start, everyone in your credit union must understand the importance of security within your organization. Similar to how water pressure can build and break the weakest point in a dam, a security breach can happen with just one weakness in the system. Next, processes should be defined to identify potential risks. From here, it is key to implement risk monitoring and reporting, as well as security operations processes.

Steps to Stay Secure
The Federal Financial Institutions Examination Council (FFIEC) has strict compliance requirements that credit unions must follow to ensure data security. Robust, continuous monitoring processes must be in place to detect any threats or vulnerabilities within your organization's information system.
It is important to understand where your system has weaknesses so you can fix them before a breach takes place. Once all the vulnerabilities are identified, they can be evaluated and prioritized for fixes or patches.
Finally, the holes must be patched. This process can be complex and repetitive, as it oftentimes requires multiple tests and patch deployments. Patch management solutions are available to help eliminate some of the manual steps of this process.

Help is Available
Cybersecurity is sure to be a path faced with numerous challenges and obstacles for credit unions. It's essential to understand and audit your credit union's entire information security landscape. In addition to using the FFIEC for a variety of resources that can help, partnering with a core processing solution that provides built-in security solutions will ease the headaches that can come with managing, mitigating and solving security concerns.

It Can Be Easy
Your credit union faces a variety of ongoing security concerns. Your security vulnerabilities may be exploited with a data breach. FLEX provides comprehensive security services using a multi-layered approach to guard critical data and repel malicious attacks from both inside and outside of your network. Download the FLEX Security Services eGuide to learn more.