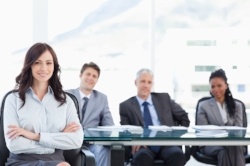 Banking is a critical function in our world. Its success relies on consumer trust in financial organizations to safely and wisely protect and invest their cash. However, it's an industry built on the almighty dollar and naturally attracts a criminal element. So it needs to be safeguarded from those that intend harm. It needs a protector. Compliance is the watchdog of financial institutions and their members. Although burdensome at times, a thorough set of regulations can help prevent, identify, and catch threats to our investments. To be successful in this business, your CU needs to make compliance an absolute top priority. Here are seven simple ways to help you do just that.
Stay informed. As new regulations are developed, criminals find new ways around them. In response, regulations are added and amended on a regular basis. It is critical to keep your compliance knowledge up-to-date. Subscribing to compliance blogs is a simple way to keep news coming directly to you.
Engage in Discussion. Tap into existing networks to find others in your industry to discuss their views on compliance issues and learn how they've addressed them. Join local and national CU leagues, engage in forums and join LinkedIn groups that are focused on keeping current with credit union compliance issues.
Phone a friend.

You are not the only one that keeps compliance top-of-mind.

Collaborate with other CU execs and see what they are doing to stay compliant in certain areas. One of the greatest strengths in CUs, over banks, is the ability to collaborate with each other.
Automate what you can. There are many facets to a thorough compliance effort. Trying to monitor and assess all of them effectively requires automation. Tools, like SimpliRisk, allow for automation of transaction monitoring, risk rating and member due diligence to support credit union AML and BSA requirements, and is a FLEX partner.
Develop strategic partnerships. Partner with technology providers that are compliance-minded and will update platforms to help CUs stay compliant. It's a critical function of these providers to understand the changes in compliance and create solutions to address them.
Keep calm and carry on.Take a deep breathe and don't become overwhelmed. Compliance can be a huge burden, but it's intended to protect all the parties involved.
Be resourceful. Give your energy to what you can control and find solutions/procedures for what you can't. If you are running into hurdles, you're likely not the only one. Tap into your resources to help you find the answers you need.
While compliance can feel overwhelming, there are many resources available to help ease the burden. Powerful tools are available to automate much of the process by monitoring your transactional data and raising alerts when red flags are triggered. Credit Union compliance can be a daunting task, but taking advantage of your network and using automation tools can make it simpler.