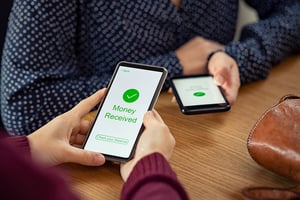 Today's consumers have turned to digital solutions to handle all sorts of daily transactions. Unsurprisingly, e-commerce and the use of digital wallets have soared, and so have fintech companies that offer digital banking and digital lending services. Credit unions must keep pace and adapt to the changes in order to thrive.
An increase in competition, advancements in technology, and drastic changes in consumer behavior all point towards the fact that digital banking, especially digital lending, is going to be crucial for the future of credit unions. The question now is how can CUs implement a seamless digital lending strategy that will satisfy their members and attract new ones?
Understanding the important trends in digital lending
Over the past year and a half, there have been so many rapid changes in member behavior and how CUs do business that sometimes it's helpful to take a breather and reflect on what's already happened in the digital lending space. If you're planning for a reboot of your CUs digital lending platform, or even just making minor tweaks to your strategy, understanding some of the trends in digital banking can be helpful.
Here are some of the most important trends in digital lending for your credit union:
Everything digital

.

Members now expect the entire loan process to be digital

. If a member or potential member fills out a loan application online, they likely don't want to go into the branch to sign final documents. It's crucial for credit unions to have a comprehensive digital lending process. In addition, they must have online banking options that allow for all banking transactions to be performed via mobile phone or a computer. From shopping, paying bills and

sending money to friends

—it's not just lending that's going digital, it's everything.

Flexibility and seamlessness

.

Some credit unions have adapted the trend towards digital banking by contracting third-party vendors to handle different processes on their digital platform. This tends to lead to a clunky, disjointed member experience. It's important your credit union's digital lending experience is as frictionless as possible

. With the right technology, you can minimize friction in your digital lending process by offering features like eSignatures. The result will be faster decisions on loans and a better member experience.

Personalized service

.

Going digital

doesn't mean losing the personal touch and passion for community that makes credit unions special in the first place. Implementing the right digital lending and banking strategies should better your relationship with members, free up time for employees, streamline the process of onboarding new members and make your credit union's lending process more efficient and effective. While the trend towards digital solutions is certain, credit unions should never forget their strengths.

Using data

. Analyzing data from digital lending can help your credit union reduce friction, tailor offers towards your member's wants and needs, understand trends in lending and replace time-consuming manual processes with automated solutions. Data collecting from digital lending can help you continually improve your digital lending process while enhancing your understanding and relationship with members.
Although the past year has been wrought with uncertainty for credit unions, lending always has and will continue to be essential for survival. By making savvy choices about your credit union's digital lending future, you can pave the way for healthy and sustainable growth in 2021 and beyond.
Digital lending solutions are easy to incorporate
One way of assuring a seamless digital lending process is by choosing the right credit union core software that can help your CU analyze data and improve overall efficiency—not just when it comes to digital lending, but throughout your entire digital banking platform. To understand further the ease of digital lending, the FLEX Digital Lending eBook walks you through how simple it is for you and your members.