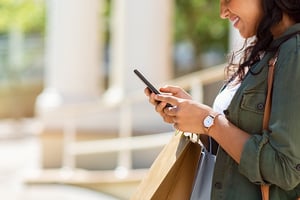 Although mobile banking and digital wallets existed before the pandemic, their capacity to enable contactless transactions has sent their usage soaring. Today people are buying groceries, sending money to friends, shopping and even applying for loans from their mobile phone, tablet, or computers.
Let's take a look at why mobile banking and digital wallets have become so popular and why they are here to stay.
Why are consumers using digital apps and mobile banking?
It's not surprising that mobile banking apps, e-commerce, and the use of digital wallets are on the rise. Technology has become such a big part of our everyday lives that most people can't leave home without their mobile phone. And since awareness about mobile banking applications is growing, it seems inevitable that more and more members will participate.
That said, the speed of digital banking adoption during the pandemic is striking. Here are some revealing statistics about mobile banking and the rise of digital wallets:
One-third of American consumers used some form of contactless payment since the pandemic started and this is expected to increase 8 fold in the next three years.
E-commerce rose 30 percent between Q1 and Q2 of 2020.
Credit and debit card payments dropped significantly between March and April of 2020, suggesting a move towards digital wallets and online banking apps. These alternative payments are predicted to overtake credit card payments in the coming years.
A study by the Economist Intelligence in January and February of this year shows 60% of respondents were either "very likely" or "extremely likely" to use digital payments in the future.
These statistics show how people's behaviors have changed as they search for digital banking solutions. Here are some other reasons we think mobile banking and digital wallets are here with us to stay:
Safety Concerns
Since the pandemic began, many businesses have stopped accepting cash. However, traditional alternatives like credit and debit cards are not ideal either because when you purchase something in-person with a card, you're often asked to enter your PIN number or sign a dirty screen with your finger. In the age of corona, nobody wants to do that. Mobile digital wallets solve this problem by making it quick and easy to buy things online, and you can pay in-person by scanning a code from your mobile device.
Social distancing has changed people's behavioral patterns and more people than ever want touchless payment options for online mobile banking. It will be up to businesses and credit unions to provide it for them.
Competition in the marketplace
All the major technology companies understand the value of the digital wallet and are competing for their share of the market. Digital wallet applications like Google Pay, Apple Pay, Samsung Pay, Venmo, Paypal and Zelle® continue to grow and improve their features and services each day. While applications like Venmo seems to appeal to younger users, Zelle has proven to be a viable online banking solution for many credit unions.
The fierce competition in the marketplace makes for better products, and implies these companies believe digital wallets are the way of the future and they're just beginning to scratch the surface.
The potential duration of the pandemic
We're in unchartered territory and nobody knows how long the pandemic will last, or if it will return. Even with a vaccine on the horizon, administering that vaccine to millions of people could take months, or maybe even years. Furthermore, the psychological effects of the virus will likely influence people's behavior for years to come.
The stark reality that the virus could be with us for a while (plus the widespread use of mobile phones), makes it more likely people will continue to seek out technological, contactless solutions for their banking needs.
The rise of technology and the efficiency of Digital Banking Apps
It would be foolish to deny that we're living in a technological age. The internet and mobile phones have changed everything from how we socialize with our friends and family to how we read the news and order groceries. Mobile phones are affecting all aspects of our lives, and the banking world, of course, is no exception.
And it's not just the banking industry that is changing. Across all industries consumers have been inclined to find technological ways to replace what was previously a technological problem. For example, in medicine, patients who previously had to visit their doctor to fill prescriptions have found alternative ways to do so online during the pandemic. It's unlikely that when things return to normal, patients will give up this convenient method of filling their prescription.
Mobile banking and digital wallets are similar. Members who use digital wallets have found a safe and convenient way to effectively do everything they did before and more. Digital wallets are also safer and more secure than physical wallets, and their features are becoming more sophisticated and convenient for users.
Expanded banking solutions
As members' awareness of mobile banking increases, so do their knowledge and expectations of digital banking solutions. One area where members are looking for mobile banking solutions is when applying for loans. Credit unions that can offer members easy channels to apply for loans online have an edge.
In conclusion
The fact is traditional banking that was done in-person is now being conducted online. This trend will likely continue for the foreseeable future. The credit unions who survive will be the ones who take customer concerns seriously and who most adequately provide digital solutions to their members. The choice of what mobile banking platform and digital wallet credit unions should use has always been a tough one, but it's never been more important. Learn how FLEX can integrate Zelle with your core by clicking below.