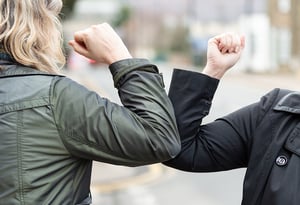 The goal of any credit union is to satisfy the needs and wants of its members. Since the pandemic reshaped the world and transformed how we do business, member habits and behaviors have been changing and changing fast. It should be no surprise that as people try to avoid contagion, in-person interactions have declined significantly, and folks have turned to digital solutions to meet their needs. This trend has huge implications for credit unions around the country.
Credit union members are demanding more mobile and digital banking solutions. They want the ability to see account information and make transactions online (digital banking), as well as to pay for goods and services and transfer money to friends (mobile payments) from the comfort of their screens. They also want to be sure their money is safe and secure.
Credit unions have historically strived to satisfy the needs of their members and maintain close relationships. Today, they must take the time to listen and enhance their digital banking options according to their members' desires. Failing to do so could result in losing members to the growing pool of competition in the digital banking world.
Understanding what members want
More and more studies are revealing drastic changes in banking habits during the pandemic. According to Fidelity National Information Services, April 2020 saw a 200% increase in mobile banking registrations and a 50% drop in visits to branches during the same time.
While reports reveal the direction banking and finance are headed, not all credit unions utilize the software to support their member's needs. In fact, less than 40% of credit unions offer a mobile Peer to Peer payment (P2P) option to their members. Furthermore, despite the growing awareness of online banking and digital wallets, some credit union members remain concerned about security or want clearer guidance for switching to digital banking solutions.
Although we've previously discussed the benefits of digital wallets and online banking solutions here we'll review some of the most important features members want from their mobile and digital banking:
P2P payments options and touchless payments.

First and foremost, a mobile banking platform must allow members to conduct their usual banking business from the safety of their cell phones or computers. Members want to be able to pay bills, shop online, send peer to peer payments, check their banking balance, and receive important push notifications. This means credit unions need powerful online banking software and a digital wallet. Zelle® is one P2P platform that has proven to be a reliable option for many credit unions.
Remote deposit capture. People want the option of depositing checks from their mobile device. This is done with advanced image detection that can validate a check before it's submitted to the credit union.
Remote lending. Applying for loans is something that was traditionally done in-person. However, those days are over. Today members want to be able to apply for loans online quickly, easily and securely.
Relationship building. Just because in-person interactions are being avoided and replaced, it doesn't mean credit unions don't have an obligation to maintain strong relationship with their members. In fact, during tough times like these it's even more important to reach out to members and open the lines of communication. One way this can be achieved in online banking is through push notifications and emails.
Guidance. Many members, especially older ones, are using online banking or digital wallets for the first time in their lives. They are not always tech savvy and want clear onboarding instructions and guidance to help them get accustomed to the new ways of banking.
Security. Security is also a major concern for members. Although digital wallets are actually much safer than physical wallets, there are other layers of security to consider and offer in a mobile banking app. Two-factor authentication (2FA) provides enhanced member account security compared to a password only approach or answering security questions. The focus of 2FA is to make it difficult for cybercriminals to get the second authentication factor and drastically reduces their chances to succeed. This is increasingly important when you consider 65% of people use the same password everywhere

.
Not just for the younger generations
One of the most compelling aspects of America's trend towards digital solutions is that it's not just younger generations going digital. Over 90% of Americans completed at least one online banking transaction in July 2020 and Baby Boomers (users between the ages of 55 and 75) have seen a sharp increase in online banking use. While this age group previously frequented the branch for their banking, when in-person banking was no longer an option because of the pandemic, they adapted.
The changes in banking habits can no doubt be attributed to the virus and fear of its spread. However, signs suggest that even when things return to normal, online banking and digital wallets are here to stay. It's time to go the (social) distance for your members with mobile and digital banking.