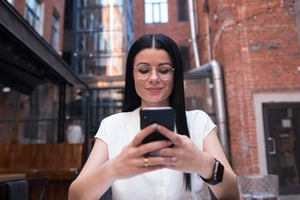 No one can deny this year has been unpredictable for both the world and American economies. From how we work and study, to how we watch sports, order food, and purchase daily goods, nearly every aspect of our lives has changed. To stay safe, more and more people have turned to conducting their business online. One area that has seen huge changes is the financial industry as people look for remote banking solutions.
Since the pandemic began, mobile banking has been adopted across generations at a rapid pace and the trend continues to rise. One study provided some very compelling evidence highlighting the impact COVID has had on the use of remote banking.

Although nobody expects the pandemic to last forever, it's unlikely the trend towards digital wallets and remote banking will diminish. As technology continues to expand the role it plays in everyday lives, credit unions must adapt to provide members with the online banking solutions they demand.
What are members looking for from digital banking?
It's important to for credit unions understand what members are looking for in remote banking apps. Some of the most important features are:
User experience.

Most members want a simple, integrated design that allows them to navigate the online banking app easily and seamlessly.

Bill pay.

Free bill pay through a checking or savings account is a must-have feature.

Digital wallets

.

With the rise of

online shopping,

the ability to purchase goods and services through easy access to mobile wallets has become an essential aspect of a successful online banking app.

Depositing, withdrawing, and transferring money.

Members want to send or receive money between individuals or businesses.

Budgeting features.

Some online banking apps have features that help people manage their money, categorize their spending, and analyze their cash-flow. These features are rising in popularity.

Messaging and access to live help staff.

Users prefer to be helped by actual people and mobile banking solutions that have access to live staff through chat, phone, or virtual means are superior.

Access to lending features.

Some mobile banking options allow members to easily apply for loans directly in the app.

Access to checking and saving accounts.

Easy access to member's banking checking and savings information is a must for all

mobile banking apps

.

Alerts and Notifications. Members want to be notified when there is suspected fraud on their account, as well as simple alerts such as low balance risks, notifications of deposits and withdrawals, password changes, upcoming bills, and unusually large ATM withdrawals.
Lastly, data protection and security features play a huge role in mobile banking. When it comes down to it, members want a credit union online banking solution they can trust.

No matter your credit union's previous philosophy about mobile banking, the writing is on the wall. The future of banking is online and to compete in the new economy credit unions must take remote banking seriously. Learn more about mobile banking in our eBook.