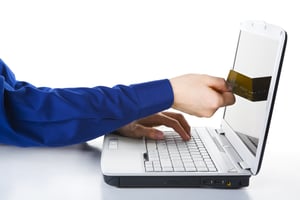 Credit card programs can be a smart way to grow your credit union, assuming your membership does one important thing: pay. There are many ways your members can make their credit card payments, some methods are more cumbersome and time-consuming than others. Eliminating hurdles to payment is an easy way to ensure your members don't get turned off by the process and pay on time. Here are some popular payment options offered by credit unions.
Cash or Check Payments
The most obvious payment option is using cash or checks to pay off the credit card. If your credit card issuer is your credit union, you can do this in person at your branch office. A simple transfer from one account to another is all that's needed, although you need to be in office for the transfer or mail in the check which can take a few days, risking late penalties.
Member Accounts
Similar to cash or check, you can often pay your credit card directly from your credit union account when you assign the credit card company as one of the recurring billing companies you use (in addition to other billing parties like utility providers). Once the accounts are linked, you can make these payments as needed from your banking portal.
Online Bill Pay (Electronic Bill Pay)
Simply select your bill payment service provider, enter your credit card details, your contact details, the payment amount, and the bank and bank account from where you want to make the payment. These firms process the payments usually within a business day or two of you making the payment. They also offer reminder services so you can be notified a few days before the bill is due.
Visa or Mastercard Money Transfer
For these two credit card giants, you can make payments directly on their websites. You use your credit union information to schedule the payment and they are usually executed within two business days.
NEFT & RTGS Payments
The National Electronic Funds Transfer System (NEFT) allows you to make same day payments from your bank to your credit card. Essentially, you link your credit card to the bank and transfer funds as needed. While the payments can be made in one day, setting up the initial connection between the two accounts can take a couple of days. Real Time Gross Settlement (RTGS) payments operate in a similar fashion to NEFTs, but are designed for high-value payments.
ECS Payments
This type of payment is great for recurring bills paid by the credit card. Electronic Clearing System (ECS) payments are set up as mandates where you ask your credit card company to reach out to the banking institution directly for payment for certain amounts on certain dates.
Mobile App Payments
The most convenient option is generally the one you're holding in your hand wherever you are - an app. Mobile apps are available with most credit card providers. You will have to link your bank account when you first set it up, but after that, a quick login and one time payment selection should get your payments where they need to be, fast.
The more convenient the process, the more likely you will have satisfied members who pay on time. Give convenience to your members and allow them to make credit card payments directly from their internet banking account by removing the need to login to a third-party site.