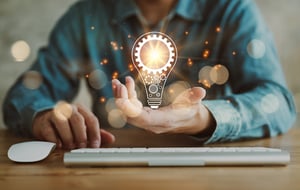 A critical thing to understand about modern-day credit union members is that they want more options, not fewer. If they want to be pigeonholed into a cold, personal experience with a narrow focus that technically meets their needs but not in any particularly satisfying way, they'll do business with one of the larger, national banks. Instead, they want more flexibility and versatility than ever and credit unions (CUs) need to rise to that challenge.
Breaking New Ground With Digital Payments: An Overview
Case in point: one recent survey indicated that a significant 66% of all credit union members say that they actually want more payment capabilities. 53% of respondents said that they were interested in mobile banking options. Keep in mind that this number is actually up from 47% in 2021.
This makes a great deal of sense once you also learn that the use of cash is declining every year. Another study indicated that the number of people who specifically do NOT use cash for purchases each week rose to 41% in 2022. That number is up from 29% just four years ago.
Based on this, two things are true: you're dealing with a situation where people are going out of their way to not use cash during a time when they also want more options with regard to how they pay for goods and services. If you said that this sounds exactly like what digital payment systems can offer credit unions and members everywhere, you'd be absolutely right about that.
This is why it is critical to offer solutions that support these and other trends, with digital payments being chief among them. Having a core system that supports payment options like Zelle, for example, can help make banking not only more convenient for your members but more straightforward and seamless as well.
Serving the Member Experience Through Innovation
But really, this is a prime example of why you can't just wait for members' needs to change and then adjust your credit union's capabilities to meet them. Your CU needs to pay attention to what is really going on, anticipating those trends so that your credit union can get there before anyone else. To put it another way, don't chase trends--let the preferences of your CU's members help you predict them.
Imagine if your credit union had fully invested in digital payments a decade ago. Not only would your CU have likely been one of the first, but you'd have gotten there before any of your competitors. You'd have been able to build up years of member loyalty in a way that would be difficult to break--all so that your credit union could do it again when the next trend in digital financial services began to reveal itself.
At FLEX, we're big believers in the idea that if you want to remain competitive as a credit union and capture the attention of a new generation of potential members, your credit union needs to turn to innovative solutions like digital payments in order to do it. That's why we've written a comprehensive new eGuide talking about this and other Digital Account Services that your organization should employ moving forward. To find out more about how digital payments and other sophisticated services can create a mutually beneficial situation for everyone involved, click the button below to get started.