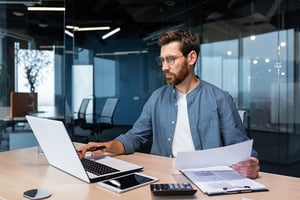 For decades, credit unions have been seen as invaluable contributors to the communities they operate in. This is especially true when compared to the stale, impersonal experiences that are often offered to those that bank with larger financial institutions.
However, even in this space, things are growing more competitive all the time. People now have more choices than ever with regard to how they handle their important financial matters. Therefore, to remain competitive, credit unions need to fully embrace modern digital enhancements, and digital account opening is one of the many ways to do exactly that.
Anywhere, Anytime Account Opening
Allowing members and non-members to open accounts digitally lets them do so on their terms--anywhere, at any time. Rather than needing to take time out of their busy schedule to go into a physical branch, they can go right online and establish their account in a fraction of the time and effort.
Credit unions can even take this one step further by integrating the online account opening solution into their existing digital banking platform. That way, instead of a "one size fits all" process, each credit union can create its own flexible solution that is based on its strategy, risk tolerance, and other factors.
Harnessing Data to Your Advantage
Digital account opening can also be another opportunity to capture even more data that can be put to good use elsewhere across the credit union. Think about the volume of significant personal information that is required to open an account--particularly in terms of verifying someone's identity.
The more you know about this person, the more you're able to offer them related, personalized products and services. You can use that data to cross-sell and up-sell with far more effectiveness than ever before.
Bringing Together That Omnichannel Experience
Finally, don't forget that digital account opening capabilities can be an effective building block toward creating what should be any credit union's ultimate goal: a legitimate omnichannel experience in every sense of the term.
These days, people want as many options as possible in terms of how they handle the financial side of their lives. If they want to handle things in person, they will. If they want to use an app, they will. If they want to go to an ITM or do their banking via a web browser, they will--provided that all of these options are available, that is.
Digital account opening becomes another building block toward a seamless, omnichannel member experience. Members have indicated overwhelmingly that this is something they are passionate about and to remain competitive in an environment that is growing more crowded all the time, credit unions need to get passionate about it, too.
Overall, credit unions need to remember that optimizing their overall experience involves paying attention to all touchpoints--not just the ones that happen after someone has gone from a prospect to a full-fledged member. Onboarding is a key component of it and to that end, how you tackle digital new accounts can have a big impact on your overall success.
Optimizing your digital new account program is not a one-time event. To improve conversion rates, it is important to continually measure, evaluate and apply what you learn.
FLEX can help your credit union transition to a strategy that can make the new account opening process smoother.
The FLEX Digital New Account Best Practices guide delivers a structured and programmatic approach to building a solid measurement framework. Download to learn more!