Optimizing Credit Union Digital Account Openings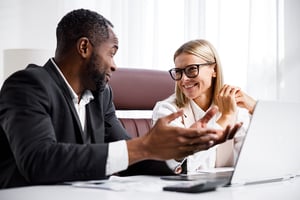 At this point, there are a lot of credit unions that offer digital services like digital account opening. Therefore, if you truly want to stand out in a crowd, your credit union needs to go above and beyond merely what is expected of you.
You must create the most straightforward, frictionless account opening experience for your members. One that is inherently engaging and that is safe as well. One that stands head and shoulders above what everyone else is offering simply because it strives to be better than the bare minimum.
Be Objective
To get to this point, you must first start by objectively evaluating where you stand with any existing digital account opening capabilities that you are offering. What is currently working? What isn't as enjoyable as it could be? Which parts of the process take six steps that can be further condensed down to three? Is the interface easy to use? What are our members saying? The answers to questions like these will uncover significant opportunities for improvement right before your eyes.
Leverage Analytics
Another best practice involves resisting the urge to guess about what needs to be done and instead involves looking toward the data you already have. According to one recent study, the abandonment rate for online account opening is a massive 19%. Look to your data analytics to see which parts of the process people are using as jumping-off points. Find out why and what you must do to fix them.
Use Digital Authentication Whenever Possible
Finally, create a safe process and avoid fraud by putting digital authentication to good use. You need to obtain member data safely and accurately because this is one of the ways you build trust in a credit union/member relationship. Verify information such as bill payment history, income, and more to support these efforts. All the tools--and data--you need to accomplish this should be ones you already have.
Review Every Touchpoint
In the end, remember that if you are to create a truly exceptional experience for all credit union members, you must pay attention to every touchpoint they might have--not just the ones in the "beginning." Yes, it's true that you can only make one first impression. For some, that will come by way of opening a new digital account. For others, it may come elsewhere in the member onboarding process.
All of this is to say that while you need to pay attention to the quality of your digital account services like new account openings as individual components, they must also feed into the larger whole that is your credit union. Optimize today. Measure tomorrow. Use that insight to evaluate and apply what you learn to create experiences that are even better down the line. The more often you're able to do this, the farther you'll be able to get.
At FLEX, we're dedicated to helping credit unions like yours transition towards a strategy that itself was built for the future. One where you can not only make the new account opening process smoother, but also sets the tone for every positive interaction you have with members from that point forward. Our Digital New Account Best Practices Guide offers a structured, programmatic approach to building the most solid measurement framework that you can. Click the button below to download and find out more!