Three Top Tech Priorities for Credit Unions in 2023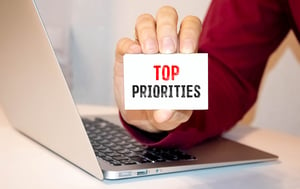 In many ways, credit unions in particular are faced with an invaluable opportunity to reassess their core processor needs and their larger digital efforts, doubling down on those areas and initiatives that will have the biggest positive impact on not only members but on the communities that they have become an invaluable part of.
Organizations that embrace modern, open technologies will not only be in a better position to innovate in terms of their digital services, but they will be able to increase efficiency, better service members, and more--all at the exact same time.
Indeed, look to 2023 as a chance to embrace modern, open technologies that will pave the way for future success. Allowing for a time of setting strategic priorities that enable you to innovate, increase efficiency, and deliver superior experiences in equal measure. With that in mind, there are three top tech priorities for 2023 that credit unions should be aware of.
Putting Critical Data to Good Use
One priority for credit unions to focus on this year allows leaders to extract more value from the massive amounts of data they're already obtaining through their daily processes and transactions.
Thanks to modern solutions with innovative artificial intelligence (AI), data can be made actionable in a way that fills in any member experience gaps that may exist, helps members improve their financial health and well-being, and helps generate new revenue for your credit union.
Innovating by Way of Digital Touchpoints
Optimizing the physical footprint of any credit union involves capitalizing on concepts like remote assistance. Incorporating digital, self-service elements whenever possible, with tools such as Interactive Teller Machines (ITMs) is a prime example.
Not only does an ITM act as a viable self-service solution (something members have been clear that they want to see more of), but it also improves the experience your credit union is offering and lowers overall costs at the same time. It even offers a new level of flexibility to credit union employees, as they can work from home if necessary and still address member concerns, answer questions, and more with the same accuracy and authenticity that they could in a physical branch.
Don't Forget About Small Businesses When it Comes to Payments
Finally, 2023 should be a chance for credit unions to solidify their payment strategies--particularly when it comes to small businesses. Offering more robust payment capabilities will be critical to remaining competitive in an admittedly crowded marketplace. Help small business owners understand which options are best for them and, above all else, make sure that your credit union is offering trusted, secure, and versatile payment offerings to these members.
FLEX user, Ironworkers USA Federal Credit Union tackled many similar challenges to the ones outlined above. They were able to go from $9 million in assets to nearly $100 million, all by capitalizing on the opportunities that led to incredible organic growth. Click the button below to download our case study to learn more.