Step Up Your Tech! Improve Efficiency for Both Credit Unions and Members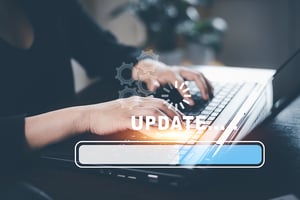 The expectations of credit union members are constantly evolving, and it's up to savvy organizations to evolve right along with them. For most, the careful application of the right type of technology is how they do it.
Not only does leveraging technology in the following four core areas help to streamline the member experience (thus improving its overall quality as well), but it can also free up the valuable time of literally every credit union employee to focus on those matters that are better deserving of their attention.
1) Automate Your Operations
In terms of operations, the major benefit that modern IT brings with it comes by way of automation. By allowing sophisticated computer systems and software-based solutions to execute those time-consuming, menial administrative tasks that employees are often dealing with, it enables higher quality, more efficient, and more effective services.
Suddenly, employees are not dealing with inaccurate or otherwise consistent reporting because back-office operations are now automated. Response times to member issues are faster than ever. It improves the efficiency of operations while also building loyalty and trust with members as well.
2) Improve the Member Experience
Speaking of the member experience, technology doesn't just help support what your credit union's own unique experience currently is. It helps to unlock the full potential of what it can potentially be, too.
Digitization can help make the onboarding process easier and more enjoyable than ever, for example. Opening accounts can be dramatically simplified, making your credit union an invaluable resource in someone's eyes immediately.
This idea extends to the overall member services that people will come to enjoy, too. By offering "anywhere, anytime" access to the services that people want, your credit union becomes a part of their lives because your credit union is always there. They stop looking elsewhere to meet their financial services needs because they already have everything they want, all under one roof.
3) Enhance the Lending Process
Technology can also help a credit union make major gains in terms of improving the lending process -- one that has historically been slow, frustrated, and driven by a world of paper.
The longer the lending application process takes, for example, the more likely someone is to abandon it entirely and look elsewhere for what they need. Likewise, they don't want to have to use multiple services to accomplish a single goal - everything should be easily accessible and ready to use within the same platform. Digital lending is how you make that a reality.
4) Digital Technology Provides Solutions
Finally, the importance of using technology to enable better digital account services and other solutions for members cannot be overstated. Now, a credit union can offer superior services to members on a scale that would have been unthinkable even as recently as a decade ago. Between ITM integration, mobile apps, online account portals, and more, people can manage their money as efficiently as they want, wherever and whenever they want - all in the most secure manner possible.
In the end, making technology the heart of your credit union is about more than just embracing "the latest and greatest" for the sake of it, or because you feel like it's what you're supposed to do. Every IT decision needs to be purpose-driven - one executed with a precise goal in mind. By using technology to increase efficiency for both credit union members and employees alike, you create a better experience for all involved - which in and of itself is the most important goal of all. To fully understand how technology can help your credit union, click below!