Incorporating Technology Into Your Credit Union Growth Strategy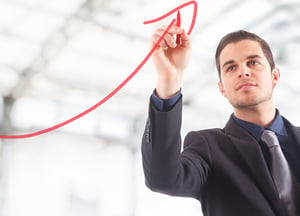 Growth is always a top priority of any credit union leader--as it should be. But as you work to develop new growth strategies for your organization, you need to look for new opportunities to incorporate digital transformation as a part of it.
Technology helps makes things better, faster, more efficient, and more effective. These are all principles that credit unions were built on and for them to succeed over the next decade, organizations need to double down on these concepts and integrate technology and digital solutions in any way that they can.
Don't Neglect Social Media
If digital marketing is at the front of your credit union growth strategy, social media sites like Facebook and Twitter need to be a big part of that. This can help take your credit union's message to the people in a way that generates new membership, promotes your digital services, and that allows you to continue that invaluable relationship you're building with your membership in a format that they're most comfortable with. Note that social media can also be an extension of your member services efforts, too.
Embrace the Cloud
In no uncertain terms, the benefits of incorporating cloud computing into as much of your credit union's core data process as possible are enormous. Not only do they increase operational efficiency by allowing employees to access data from nearly any device with an active Internet connection, but it also makes it easier for them to collaborate with one another, too.
Not only that, but cloud computing makes things easier on members, too. When all data is available regardless of the location, it becomes easier to serve members and give them personal attention regardless of which branch they walk into or how they're making contact.
Empower Communication
All credit unions depend on communication to succeed. It's a big part of what core processing for credit unions is all about. That is true both in terms of outward-facing communications (meaning the relationships you have with your members) and inward-facing communications (meaning the way employees interact and collaborate with one another), too.
VoIP, otherwise known as Voice Over Internet Protocol, is a way to incorporate this idea into your credit union growth strategy. It's a low-cost solution that allows you to make calls over the Internet from virtually any device, all with features like call scheduling, call forwarding, and more. Suddenly, every phone an employee has becomes their "work phone" and they can be productive anywhere, at any time, no matter what.
The Mobile Age
In an era when the majority of people on the planet are on a smartphone of some kind, it's safe to say that optimizing absolutely every part of your credit union's infrastructure that you can for mobile is a good idea. That includes not only the digital services that you're offering to members and other core processing requirements, but as many of your back office and administrative functions as well.
Listen to Big Data Analytics
Finally, one of the best ways to embrace technology in your credit union growth strategy involves utilizing all the big data analytics that are available to you. Your credit union, its employees, and its members are already creating massive volumes of data every day. Big data analytics can help you make sense of it--cutting through the noise to get to the true story hidden underneath. That can be a great way to make decisions based on more accurate, actionable information than you have right now.
At FLEX, we've always believed that technology was an essential part of any organization's growth strategy--and we have the results to prove it. Recently, we worked with the CEO of Ironworkers USA Federal Credit Union in a process that saw them go from $9 million to nearly $100 million in organic growth. To find out how we did it, or to get more information on this and related topics like how organizations battled the impact of the COVID-19 pandemic, please click the button below.