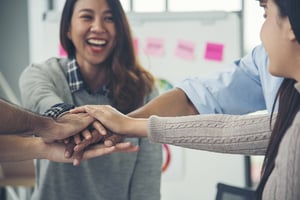 Digital transformation — when done right — can transform your credit union's ability to stand out in a crowded market while optimizing operations and improving the overall member experience. But when it's done wrong, the possibilities are endless — and not in a good way. For example, Hewlett Packard's digital transformation in 2004 was slated to cost $160 million. But because of several failures, it cost them nearly five times that amount.
While there are a number of ways to fumble your digital banking game plan, one of the surest ways is to prioritize digital transformation ahead of your members. The old adage says it best with "don't put the cart before the horse." Let's take a closer look at why your members, employees and processes should be the horses that drive digital optimization...and not the other way around.
Your Members Drive Technology — Not the Other Way Around!
The member experience plays a vital role in digital transformation. Better yet: Your digital transformation initiatives should come from the pain points that your members experience. Most of these pain points originate from an increasing demand for a seamless, frictionless, end-to-end, always-on-member experience. While there is a range of operational benefits to be had from digital transformation, improving the member experience should be first and foremost. And when you keep the focus on improving the member experience, you can improve how your employees engage with members while increasing operating efficiency.
Engage Employees & Members for Emotional Buy-in for Digital Transformation
Although your members are the driving force, your employees are your first line of defense and are often the face of your credit union. As such, it's imperative to properly engage and educate your employees. Failure to do so could lead to employees unknowingly sabotaging your credit union's digital transformation. To overcome this potential inertia, make sure your employees understand how the transformation can improve the way they serve members. Here are a few simple ways you can engage your employees to capture their emotional buy-in.
Keep It Real. Instead of acting as if it's business as usual, it's best to have genuine conversations with employees. Explain the metrics behind the decision, goals for improvement, and address their fears and concerns head-on.
Explain the Implications of Change. Your employees know change is inevitable. Make sure to be transparent and honest about the potential impact of digital transformation on their existing positions with the credit union.
Explain Plans for Role Change and Upskilling. Follow up the new reality with an outline of how the credit union plans to redeploy or upskill employees for the new digital environment. This is paramount and can assuage their real concerns about job stability.
Understand & Trust the Process
Implementing technological tools can enable transformation without gutting business processes. As such, it's important to have a deep understanding of these processes. The keys are to:
Explain and document existing processes,
Decide where opportunities exist to make improvements,
Think about potential changes and the implications, and
Work through reengineering the processes.
While digitization can supercharge processes, it can also cause members and employees to have a very turbulent ride if the processes themselves are not ideal. The most opportune time to analyze and modify processes is before digital transformation.
Your People Are at the Core of It All! Keep Them First
Digital transformation can be a powerful way to modernize your credit union. However, it's important to put the horse before the cart by putting your members, employees, and processes before digital transformation. Once you get that part right, digital transformation becomes easier and more of a flip of a switch....or two.
Download our latest Digital Account Services Guide to learn how FLEX's dynamic core can help improve your credit union's digital banking offerings.