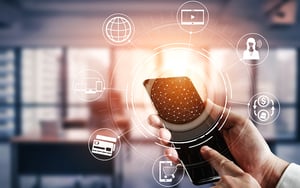 When the pandemic hit in March of 2020 and caused a nationwide shutdown, many credit unions had to scramble to update their digital banking services as quickly as possible. Their hard work and adaptability were honorable, and most CUs were able to provide adequate digital services in a timely manner and maintain their member base. However, digital technology is never at a standstill and the transformation for CUs is far from complete.
Now is not the time to get complacent. Because of the pandemic and the encroachment of fintech companies into traditional banking spaces, members are demanding fast, easy, and efficient digital solutions for all their banking transactions. To rise to the challenge, credit unions must carefully consider what technologies they wish to implement and how they use their data and analytics to provide top-quality service. As digital banking trends continue in 2021, CUs have a responsibility to continue providing members with the features and service they expect.
Important digital banking features in 2021
The credit unions that excel moving forward will be the ones that rise to the occasion and meet their member's needs. And it won't be easy. Companies like Amazon, Uber and Airbnb have set a new bar as far as speedy digital transactions go, and fintech companies like PayPal and Venmo are taking large chunks of younger demographics. ApplePay and GooglePay are also in the game raising customer expectations for digital wallets. Users now want quick and easy digital solutions for all their banking needs.
So, what does this mean for credit unions? 2021 demands CUs seriously rethink their digital technologies and how they plan to operate moving forward. The first step is understanding what members want. Listed below are some of the most important digital features and services members expect from their credit union in 2021:
Seamlessness.

Credit unions often provide digital solutions by contracting with multiple third-party vendors that knit together a patchwork of different services. This may seem sufficient and acceptable, but often results in slow response times delivering a clunky, inefficient user experience. While it is the norm that multiple third-party solutions will be a part of most credit union operations, the actual user experience for staff and members needs to be as seamless and user-friendly as possible. Utilizing technology that minimizes the need for a high volume of third-party solutions will help ensure seamlessness is delivered for both members and staff.

Speed is king.

Tech companies have changed the game, making people accustomed to one-click shopping and other immediate services. Members will no longer wait for lengthy loan applications, account approval, long transfers or delays. Your digital banking solutions should deliver real-time solutions without the need of logging in and out of multiple systems. Delivering mobile banking app features such as P2P transfers from right within the core allows members to send money, receive money and split expenses fast, safe and easily.
Use of data and analytics. It's vital to collect robust data on the full application process. Be sure that you can identify each step uniquely, and that all entry and exit paths for each step are captured and reviewed on a regular basis. Some steps are common to all channels, but others might be unique or different depending on the channel. Collect detailed error information so corrective actions can be prioritized based upon the impacted visitor segments. Using data can help your CU provide tailored financial recommendations and personalized push notifications to members.
Safety

and security measures.

Security attacks only need one weakness to get through a system or network. Ensuring comprehensive security protocols are being utilized to protect member data and privacy is and continues to be crucial in the coming years.
Re-education and training. The nature of the workplace has changed drastically over the last year. Many employees are working from home offices and using unfamiliar new technologies. CUs must take the time and provide the resources for their employees to adapt.
One advantage CUs have on fintech companies is their personal relationship with members. How credit unions can transform around new technology, data and analytics without losing their member-focused attitude will be crucial in the years to come. Successful CUs will find ways to nurture their relationships even as they transform and expand their digital services.
Download our Digital Lending Best Practices to learn more.