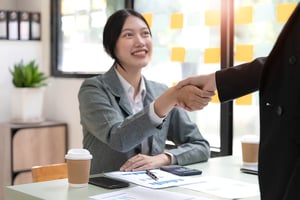 One of the most fundamental methods to keep your credit union thriving is by continuing to onboard new members. Keeping existing members happy is crucial too, but growth will surely happen through a simplified digital account opening process.
For this reason, it's important to focus on making the account opening process as pain-free and beneficial as possible. To do this, you can follow several strategies, which involve incentives, simplification, and digitization among other things.
Deposits Are the Lifeblood of Growth
The bottom line for financial institutions (FIs) in the U.S. is that total account savings in personal accounts during the third quarter of 2022 have reached a low of $626 billion dollars, compared to nearly 1.5 trillion just 3 years ago.
This of course reduces the ability of FIs to issue new loans, thus making it even more difficult for account holders to finance their spending needs even as they reduce their personal savings to cover expenses.
Regardless of the wider economic situation and the overall managed-asset status of the banking industry, you can help your own credit union members avoid the same trap by improving onboarding process for new accounts. It will help to ensure that deposits keep coming into your CU.
Making New Accounts Simple
The single simplest way to entice people into opening an account with your credit union is by simplifying the process as much as possible. Doing this also means making this process as digital and hassle-free as possible.
In other words, enable account openings without in-branch visits or an intensive manual account opening process that requires considerable effort from your potential members. Refining this process will require trial and error but best practices exist.
Most importantly, these should be fundamentally based on one key goal: Allowing your prospects to open accounts digitally, either through their phones or other digital devices such as PCs and laptops, without having to visit your credit union branch.
Imagine the perspective of a potential member considering a new account with your local, supposedly convenient credit union branch. Through your organization's advertising, they're led to believe that they can open an account digitally in just minutes without going in-branch. Once they begin the process, they discover several key steps require printing out or locating a proof of address or ID and personally delivering these items into a branch during working hours.
It's very likely that this potential member will completely drop the process under the pretext that they can do it later. Whether that later happens is questionable.
If however, your applicant can indeed open their account digitally in seconds or minutes entirely through their mobile device or computer, it will make them much more likely to do so. They'll also view your credit union as a much more user-friendly and modern option in general. This will encourage deposits and recommendations to friends and family.
Tech Solutions for Digital Account Setup
Tech and cloud-based solutions exist that let credit union's facilitate account openings and ID verifications purely digitally. A vast part of the Fintech industry is based on these digital account services and there's no reason why your credit union can't apply them too.
One key part of this process lies in developing a strong digital customer identification program (CIP) that doesn't rely on hard-copy documents and avoids irrelevant field or data requests for ID verification. Such a program, tied to your online banking platform, can validate applicant information against third-party ID verification systems to simplify account opening across the board.
Making Member Onboarding Easy
The member onboarding process requires several key steps aside from the digitization of account opening steps. Fortunately, it doesn't have to be difficult or incredibly costly to implement. In fact, the opposite is true--you can reduce your own costs by making it easier for applicants to increase their time savings. FLEX's member onboarding guide can help you navigate the steps your credit union can take to grow its member base in the most frictionless way possible for both applicants and your own staff.