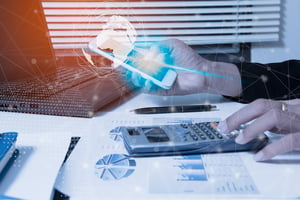 In a previous blog, we discussed the importance of reducing friction in the onboarding process. One good way to do so is through integration to a robust onboarding solution that manages the process for members as well as credit union staff. Leveraging your core system's Application Program Interfaces (APIs) can provide a myriad of benefits that lead to increased efficiency and convenience, and ultimately reduce costs and boost revenue for your credit union. Here's how APIs have become a popular tool in improving the member onboarding processes.
Real-time Account Opening
Integration with software that allows members to open their account in real time can be accomplished with APIs. Gone are the days waiting to get a checking or savings account up and running. Especially with the vast number of FIs offering digital account opening, members expect real-time results. 48% of financial institutions worldwide offer a digital checking account opening process, and credit unions can offer real-time account opening online, in-branch, or through the call center. Examples include Lending360's New Account Opening, touted as a simple, quick, and reliable solution to open and fund new accounts online anytime, and MeridianLink's XpressAccounts, an end-to-end web-based account opening and funding transaction service that is growing in popularity in the financial industry.
eSignature
This feature is extremely important, especially if your credit union intends to offer digital account opening. eSignature brings the account opening process full circle, and for those opening online, it allows them to complete the process without a trip to the branch. eSignature is not only more convenient for the members, but also saves your credit union time, money, and is extremely secure too. eSignatures round out the overall account opening experience.
Seamless Integration
The purpose of an API is to provide seamless access to the core system and the data that resides there. API integration empowers fintech software solutions such as automated loan decisioning and workflows for direct lending, indirect lending, business lending, and account opening and many other onboarding solutions. CRIF select is another SASS solutions for credit unions which offers automation for credit union indirect lending. This is a solution which can be integrated with seamless API connections to the credit unions core data processor.
Channel Consolidation
One key benefit of APIs is their ability to consolidate operations from multiple channels into one platform without having to spend the money on native integration. Many credit unions use separate programs and technology for account opening online, in-branch, and in call centers. Through APIs, credit unions are able to use the data sets for all account opening processes, even if the components are from different vendors, which streamlines operations, leads to greater efficiencies and is even more convenient for credit union staff as they will be opening accounts with just one entry of the data.
Open Architecture
APIs should be open. Credit unions should have the freedom to pick and choose which peripheral fintech solutions they want to employ and have a core processing partner that plays nice. If a core system vendor has an open API with well-written documentation, ancillary fintech providers can write to the technical specs of the API with little to no required input from the core vendor's end. Open architecture may very well be the deciding factor of who the next top dogs are in the core system marketplace.
The onboarding process doesn't have to be a grueling or time-consuming task. Through API technology, your credit union can leverage many different personalized onboarding solutions.