Open Up to New Core Possibilities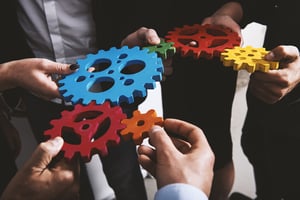 A core system and all its ancillary products will equip your credit union with the majority of the functionality you require. However, as new products and services become available, the core alone may not be enough to keep your credit union competitive with the largest financial institutions that compete for your members. Application programming interfaces (API) can bridge that gap, and provide access to new features that credit unions are seeking. Some CUs are skeptical of APIs for concerns of security but most would argue that the benefits outweigh the added risk. APIs allow developers to introduce more add-ons with features that may not be available with the core platform alone. Here's why your credit union should open up to new possibilities through APIs.
API Security
When it comes to security, many credit union executives are overly cautious, as they should be. Member data security is one of the pillars of credit union values, and it is more than reasonable to tread lightly when considering outside connections through APIs in conjunction with the core system. However, APIs can actually increase security and privacy when used in tandem with core systems. As long as they are implemented with secure data protocols, there is no reason to fear that the platform is not up to par with your credit union's security standards.
Simplify Operations
APIs also provide greater connectivity and convenience for your staff. Oftentimes, APIs can bridge the gap between disjointed products in your credit union's operations. For example, integrating products, such as eSignature, with the core system can save your staff from re-keying member information or uploading signed forms into the document manager. Ideally, core systems will have an API integration with eSignature providers so staff members can send documents to members without logging into a separate service or website. Taking it a step further, the signed forms should return to the core system after being signed.
Additional Features
Through APIs, your credit union will also be able to provide a greater range of features that wouldn't be possible through the core alone. Credit unions often employ products such as indirect lending, mobile banking, new member account services, personal finance management, and more through APIs. In turn, these features improve the member experience and help your credit union better meet the needs of members. As credit union core software providers understand the push for open architecture credit unions will be able to offer best of breed products from a variety of financial technology partners.
Many credit unions have begun to take API compatibility into account when selecting a new core partner. Most credit unions rely on multiple integrations to fully serve their members. In fact, according to a recent article on creditunions.com, some financial institutions utilize up to 50 integrations with their core system.
APIs can improve your credit unions performance by streamlining operations, reducing member friction, increasing security, and widening the array of products and services you offer your members. While the financial services industry as a whole has been slow to adopt API technology, the time has come to embrace new possibilities. APIs are a secure way to improve your credit union's offerings in a way that is cohesive with your existing technology.