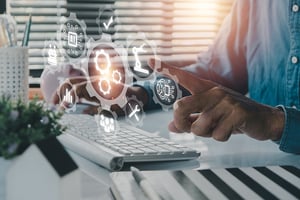 The modern banking landscape continues to move ever deeper towards mobile banking apps, purely digital financial services, and frictionless services that require less physical presence by customers. The pandemic put even more focus than before on delivering access to financial services of all kinds without obligating an in-person visit.
Technology can help your own credit union work with these trends instead of against them. A further benefit of modernizing your organization along these lines is that it will generally improve your administrative efficiency.
New Technologies in Small Steps
While credit unions are often not known for being extremely adaptive in the way some Fintech companies and major banks with larger budgets are, many tech adaptations are possible. The number of tools and technologies available for digital banking continues to evolve and grow. If you keep your finger on the pulse of this evolution you stand at an advantage to improve the streamlined support you provide to members along with internal efficiencies within your credit union.
Examples of this for member service would include adapting digital chat systems that let your members quickly and easily contact member support across multiple platforms, including social media channels, the credit union's mobile app, and right through the credit union's website too.
Using these same platforms to conduct basic business with members would also be helpful. Most importantly, your credit union can work to implement digital banking allowing members to apply for loans, digitally issue cards, transfer funds, and handle online payments without having to conduct an in-person visit with your branch offices.
Technologies exist for making a wide range of common banking services viable via online and mobile banking. They can also be effectively secured and you can avoid the pitfalls that have caused many banking services members to be less than impressed with a number of different major mobile banking apps.
Streamlining Your Credit Union's Administration
No banking organization is going to be free of at least some administrative bloat. However, you can greatly reduce this by focusing your organization's use of technology in strategic ways.
Improving Transaction Speeds
Many credit unions still use core legacy systems for handling transactions and member notifications. These systems can be reliable, but they can also be slow due to their reliance on batch processing and aging hardware. Your members will, however, want notifications and transactions that are reflected in real-time. By using newer digital communication and processing technologies, you can help your credit union increase the overall speed of internal transactions, resulting in an improved member experience.
Lowering Operations Costs
Legacy technology in your organization can really eat into operational costs too. As a financial organization, your credit union absolutely depends on IT to stay functional, and using legacy technologies for that IT foundation can eat up as much as 80% of your technology budget. This is an enormous and unnecessary expense that also exposes you to security risks through hacks against outdated software systems.
None of these things need to be the case. By adapting your credit union to newer, much more streamlined technologies that include cloud software and database services, you can reduce costs enormously. Many institutions are already doing this and your organization can too, at a surprisingly low cost.
Handling Mobile Banking
One of the most crucial roles that digital technology can play in modernizing your credit union is by enabling mobile banking. This is the "killer app" feature that the vast majority of members not only regularly use but also widely prefer. Recent survey estimates place the percentage of mobile banking users at 89% among all respondents and at 97% among millennial demographics.
Almost as important is that your organization invests in designing the app so that it's user-friendly, highly functional, and well-secured. Members won't just prefer mobile banking; they'll also want it to work reasonably well and securely.
Improving Member Service in General
Focusing your credit union's tech transformation to include improved efficiency is one part of a multi-step process. FLEX can offer the guidance that your credit union needs to achieve these goals effectively. Our guide to 7 Key Ratios for Core System Efficiency outlines how your credit union can leverage technology to optimize across several crucial ratios for profitable cost reduction.