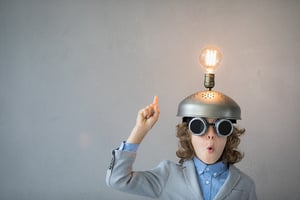 The new year is a good time to reflect, and 2020 certainly gave us a lot to think about. The pandemic brought unforeseen changes to the world, especially in regards to consumer habits. As people sought to avoid most in-person transactions, many industries were forced to make major adjustments to how they operate. The financial world was no exception.
For credit unions, digital technologies played a major role in solving member's problems during the crisis, and those that used technology to cut costs to be more efficient had a better chance of surviving 2020. For CU's that want to learn from the past, it is important not just to reflect on the previous year, but to analyze and review important key performance metrics.
Understanding benchmarking and key growth metrics
Benchmarking involves analyzing and interpreting your credit union's financial information and comparing it to other credit unions to see how your institution stacks up. Benchmarking can help monitor progress, pinpoint problems and patterns, and understand the market better.
To begin benchmarking, it's important to understand and to evaluate certain key performance metrics and growth indicators. Some of these metrics include the efficiency ratio, ratio to assets (ROA), loan originations per employee, and operating expenses over average assets.
Factors that affect efficiency
In this unpredictable climate, the efficiency ratio is the best indicator of how well your credit union is doing. If your credit union is experiencing inefficiencies, that means money is being wasted.

The efficiency ratio is calculated by taking the CU's operating expenses and dividing it by Total Interest Income (Interest Income - Interest Expenses) + Non Interest Income.

The goal is to have a lower efficiency ratio. This means overhead and operating expenses are a small chunk of the CU's income.



The efficiency ratio essentially shows how much it costs your credit union to earn $1. In March 2020, the national average efficiency ratio average was 75%. That means it took most credit unions around $.75 to make $1.
If you have just missed the mark and come in higher than the national average, consider adopting new core technology and watch your efficiency grow exponentially. As you consider investing in new technology and incorporating more efficient credit union software, keep overhead expenses in mind. There's no need to break-the-bank in trying to achieve efficiency. Remember to take into account many hidden expenses, especially when calculating the Cost of Technology per Member (total cost of your credit union's technology divided by your member base.) Consider not only the initial outlay for the investment but also re-occurring charges and the potential cost of third-party integration.
Some of the factors that can positively affect your CU's efficiency ratio include:
Online lending.

In-person banking has become almost non-existent since the pandemic. That means that if your CU doesn't have an online lending strategy, it is going to be exceedingly difficult to generate the income you need. Core system technology with features such as eSignature can make online lending easy, safe and secure for your members.
Member onboarding. Is your credit union attracting new members and providing user-friendly means for them to become part of the CU? Are you marketing to existing members effectively? Choosing the right core system can help you communicate better with your current members and easily onboard new members.

Mobile banking.

E-commerce and digital wallet use soared in 2020, and credit unions experienced fewer in-person transactions at their branches. This trend is likely to continue, making online banking an absolute must for every credit union that wants to succeed.
The bottom line is that to improve your credit union's efficiency ratio, your CU needs to do more with less. With the right technology in place, you can see your day-to-day operations streamlined, data managed securely, and be able to integrate cutting-edge fintech smoothly, all while still providing impeccable service to your members.