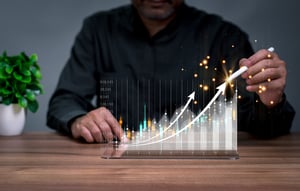 Digital transformation isn't just an important part of the success of any credit union--it has become critically so in the wake of COVID-19. According to one recent study, the pandemic sped up the average adoption of digital technologies by an estimated three to seven years, all in the span of just a few months.
Indeed, the credit union space is growing more competitive all the time as organizations leverage the concept of digital transformation to attract attention and make their presence known. In that environment, your organization's unique value proposition becomes the key resource to leverage to remain as competitive as possible.
Letting Modern Technology Guide the Way
One of the biggest ways that technology and a credit union's core data process are being used to increase the value proposition of credit unions comes by way of its impact on the member experience. Organizational leaders have long had to answer the question of how they can hold onto their signature personal service, all while still offering the digital channels that members don't just want, but expect.
A method to accomplish precisely that is through the use of Interactive Teller Machines, or ITMs for short. As opposed to a traditional ATM, an ITM connects members with a live teller who can answer questions, address concerns, and guide them through all elements of a transaction. It takes the convenience of self-service and adds back that personal touch that members want from a credit union.
One recent example of this idea in action takes the form of the Ironworkers USA Federal Credit Union. They recently installed an ITM in Boston to support the banking needs of union workers wherever they were, even though the credit union itself is based out of Portland. By offering these types of self-service and other digital banking tools, they've created a situation where members don't have to go looking for value. Value (and a superior experience) comes right to them, exactly as it should be.
Technology can also be used to increase a credit union's value proposition when it comes to its workforce, too. Again, people go to credit unions in the first place because they want a personalized level of care and attention to detail that they can't get from larger financial institutions. That takes a special team of employees at the heart of it all--ones that can not only create and maintain these tech-based assets but can also build newer and more innovative digital strategies based on the unique needs of their membership as well. This can extend both to outward-facing solutions that offer better services to clients, and integration with digital marketing strategies to expand a credit union's reach and awareness, too.
Creating a Brighter Tomorrow With Today's Technology
The aforementioned Ironworkers USA Federal Credit Union were tasked with turning to innovative technology to not only increase efficiency and up their value proposition, but to enable a superior level of growth along the way, going from $9 million in assets to nearly $100 million all through organic growth. To find out how they managed to do it, click the button below to discover how they accomplished their goals.