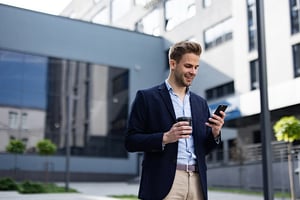 The digital age has arrived and is here to stay. Credit union members have turned to digital and mobile banking apps to complete their everyday banking transactions. These changes in behavior combined with the rise of fintech companies such as Venmo and Paypal are forcing credit unions to enhance their digital banking services and mobile apps at a rapid pace.
By now, credit unions should know that a quality mobile banking app is essential if they are going to compete in the modern economy. However, it's not only vital that credit unions offer a mobile banking app, but it's also equally important that your mobile app is user-friendly while delivering an all-in-one banking experience. Any friction in your mobile app could potentially lead to losing members.
What do credit union members want from a mobile banking app?
Understanding what members are looking for in a mobile app is a first step towards adding and improving features offered within your app. Expectations for mobile banking apps have changed and so has the rise in competition. These days members want to complete sophisticated banking transactions, such as applying for a loan, as well as simpler tasks like checking their balance, quickly and easily from the convenience of their mobile phones.
Listed below are just a handful of mobile app features and capabilities that members want and expect from your mobile banking app:
Remote Deposit Capture

Viewable FICO Credit Score

P2P Payments

Push Notifications

Bill Pay

Touch ID

Card Controls

Digital lending

Options

eSignature

Features
It's also important that your CU properly market your all-in-one mobile banking app. Advertise your mobile app on your credit union website and providing links to where your app can be downloaded will increase overall mobile app adoption. By showing members and potentials the advantages of using your CU's mobile app, you can maintain your old members while also attracting new ones.
Finally, consider the design of your mobile banking app and how you can enhance the overall experience for members while also promoting your credit union brand. Unified colors and shades should be used strategically and consistently to market your brand and draw attention to important functions in your app.
The importance of a quality credit union core provider
Many credit unions choose to outsource their mobile app and its varying features through multiple third-party providers. This can often complicate processes for members and can create a user experience that is ripe with friction. Instead, you can greatly improve the speed and functionality of your mobile app by choosing the right credit union core provider.
The right core software solution can help eliminate the need for third-party vendors and create a smooth, frictionless, all-in-one mobile banking app experience. FLEX can help your credit union decrease onboarding times of new members, improve your digital lending experience, and create an all-in-one mobile banking app that is secure and easy to use. With FLEX your credit union can be optimistic knowing you have the tools needed to move forward in the digital age.
To learn more about delivering an all-in-one mobile app for your members, download our guide to Mobile Banking: