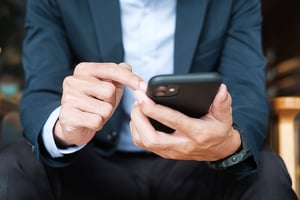 According to the Business Insider's Mobile Banking Competitive Edge Study, nearly 90% of credit union members claim they use mobile banking services. Additionally, more than 95% of millennials report using mobile banking. What this means for credit unions is that having a quality mobile banking app is now an essential part of doing business. However, not just any mobile banking app will do.
These days credit union members are looking for mobile banking apps that go above and beyond the basic. They want an app that not only gives them access to basic banking services and account information, but one that is user-friendly and but offers all the latest features that help make their lives more efficient and simple. Rising to this challenge will is definitely possible for credit unions, and the first step in the process is to understand what members are looking for in 2021 with their mobile banking app.
The different functions of a successful mobile app
First and foremost, members want and need access to basic banking services through their mobile app. Some of the most used services that members expect from their mobile banking app include:
Easy access to account information, such as balances and recent transactions.

Bill pay and money transfers between accounts.

The ability to find the nearest ATM or credit union branch.

The ability to deposit checks using a camera phone.
While these services are critical to offer within your credit union's mobile app, this is just the tip of the iceberg. There are many other functions that members are looking for. Listed below are some of the latest functions credit unions should be able to provide with their mobile banking app that go beyond basic functions:
Card controls

. This function enables members to use the mobile app to turn their cards on or off. This is especially helpful in the event a card is lost or stolen.

Digital card issuance

. Members want to request and receive a new ATM or debit card through the mobile banking app. They also want digital access to their card's features in case they lose their physical card.

Push notifications

. These messages can be sent through the mobile app to alert members of recent transactions, low account balances and other helpful notifications.

Travel notifications

. This allows members to notify their credit union through their mobile banking app when they are traveling, avoiding potential card declines.

Payments

. Members want to pay bills or send money to friends and family through their mobile app.

Digital lending services

.

As lending has always been the bread and butter of credit unions, it's important that your mobile banking app can offer fast, efficient and secure digital lending services.

Managed PIN functionality

. Members should be able to change or update the PIN they use for their cards directly through the mobile banking app.
Choosing a credit union core provider
The right credit union core provider can help your CU provide the best possible mobile banking experience for members. A credit union core provider with adaptability and open architecture such as FLEX can help you create a seamless mobile banking app that provides your members with all the services they want and need.
If your credit union is not sure where to start, consider core data processor, FLEX. FLEX has helped hundreds of credit unions around the country create their mobile app and reach their digital banking goals. You can also download our guide to mobile banking to help establish an understanding of how a core-based mobile app delivers a unified and seamless internet and mobile banking experience for your members.