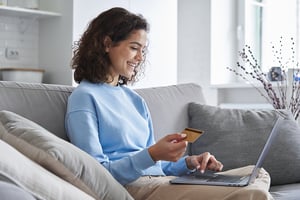 Over the last couple of years, the rapid changes taking place in digital banking have put pressure on many credit unions to improve their digital platforms. One of the most important elements of creating any successful digital banking platform is making sure you can offer a frictionless Digital Member Service (DMS) experience to your members. Today, when members need help, they expect efficient, fast and user-friendly member services.
With continued competition and technological advancements from fintech companies and apps such as ApplePay, GooglePay, Venmo and Paypal, member expectations for digital banking have changed. Now people of all ages have become accustomed to banking online, and it is unlikely this trend is going to change soon. Unfortunately, although the writing is on the wall, many credit unions are resisting making enhancements to their digital platforms and some are even decreasing their investments in their digital member experience.
We believe this is a bad idea. As the evolution of technology marches on at an alarming rate, it's important that credit unions adapt and keep up with the changes in digital banking. Here is some more information for credit unions that are interested in exploring strategies to enhance their digital member experience.
Four strategies for improving your DMS experience
Credit unions have always taken care of the people in their communities. It's not just about being able to provide low interest rates on loans or other financial benefits, but also giving members the personalized care and attention they deserve. For this reason, the sudden change to digital member services may seem off-putting to some credit unions and their employees, and some have struggled with the paradox of using digital technology to provide member services.
However, it's important to remember that digital does not have to mean impersonal. In fact, when done well, digital technologies should enhance the relationships between credit union members and their employees. An efficient digital member service platform can also free up time for your employees and allow your CU to pinpoint more precisely the services your members want and need.
Although digital member service platforms and experiences can vary depending on the goals of each credit union, there are some basic steps and features your CU should consider if you wish to enhance your DMS or keep your current one healthy.
Here are four of the best strategies for improving your DMS experience:
Choose a leader. Having one person in charge of your digital member service platform is recommended. This leader should understand the needs, wants and expectations of your members, and be able to work collaboratively with your team to deliver them. It is also important that this leader has a vision for the DMS experience and know-how to personalize and humanize it in a way that is consistent with the CU's vision and similar in-person experiences. Finally, the DMS lead should be keen to the advancements taking place with digital technologies in the banking space.


Personalize the experience. By making use of data, AI technology, pushback notifications, voice calls and feedback from members, your CU can continually improve your DMS platform and provide a high-quality, personalized experience to members. Doing so can help increase member retention and loyalty, as well as attract new members and onboard them digitally. By using analytics wisely, you can spur long-term growth at your credit union.



Digital

integration

.

Fintech companies have transformed what members expect from digital member service experiences and online banking apps. Members will no longer put up with a slow, fragmented experience rife with friction. If your digital member platform involves too many channels between call centers, mobile apps, and third-party applications, you will likely lose members to more seamless apps. Choosing the right technology that can help your CU integrate various channels into one seamless DMS experience is critical.



Feedback, functionality and evolution.

Digital technology is evolving at an alarming pace, so it's important that you stay up to date with the latest trends. Although you don't have to adopt every single advancement in technology, your CU must have a strategic approach to how you're going to upgrade technologies and integrate your systems as advancements are made and feedback is collected. Speed, functionality and security are all vital elements of your DMS platform and can be enhanced by choosing the right credit union core software technology.
With the right technologies and digital services, credit unions can continue to help their members financially and without losing the personal touch that makes credit unions special. Planning a DMS platform that is efficient, fast and personalized will allow you to maintain the core tenets of your CU while also satisfying member needs.
By choosing the right core software and strategically planning your digital member service platform and how you plan to upgrade it, your CU can thrive in this competitive banking climate and look forward to a bright future.
To establish a more unified digital member service experience--FLEX has now joined forces with Glia. Together, we can help your credit union create a DMS experience that will truly set your CU apart. Download the FLEX and Glia eGuide to learn more.