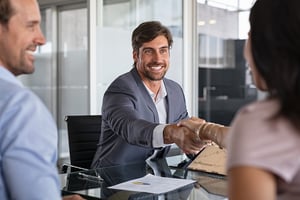 Credit unions have a history of putting their members first. In fact, nothing is more important for a credit union than being able to provide personalized member services to members in their community. Perhaps this is why many credit unions have found the transition to digital banking and digital member services (DMS) that has taken place over the past few years to be difficult, and some are even resisting the changes.
When it comes to digitalization, research is showing that credit unions are behind their traditional bank counterparts. In fact, more than 25% of CUs thought they were overspending on their digital platform, and a smaller percentage of CUs plan on decreasing their investments in digital technology in the coming year. These stats show a clear divide between the attitude of some CUs and the reality of what's happening in the financial world. For forward-looking credit unions who want to survive in the digital age, investing in digital member service (DMS) platforms is essential.
What digitalization can do for your credit union
The last thing credit unions should do is shy away from the inevitable digital transformation that is taking place in the banking world. Providing a quality digital member service experience to your members is not as difficult as it seems, nor does it mean the personal touch must be lost. By choosing the right technologies to support your DMS, your CU can create a seamless DMS experience that members will be excited about.
Here are some key points credit unions can take away from the current climate, and some of the benefits of a comprehensive digital member service platform:
Digitalization is necessary

.

The jury is out; CUs can no longer afford to ignore digitalization. The rise of fintech companies like Venmo, Paypal and ApplePay onto the scene has made competition fierce in the banking space and significantly changed member expectations. Banks are now investing millions in their digital platforms because they see the writing on the wall—that the days of only young people using online banking and DMS are long gone. If your CU is lagging behind in their DMS, now is the time to start reviewing existing technologies and creating a comprehensive DMS platform plan

.

Personalization.

Going digital doesn't mean losing the personal touch that sets credit unions apart from the competition. In fact, a sophisticated digital platform can and should help your CU enhance its relationships with members by analyzing data and providing personalized push notifications, chat boxes, and phone and video chat access.

A seamless, automated, single-channel digital banking platform

can also free up time for your employees, which they can use to focus more on satisfying member wants and needs.

Meaningful member interaction

.

By making use of data and AI technology, your CU can make each interaction more meaningful and tailored towards members' specific needs and wants. A single-channel digital member service platform

can also help increase member retention rates as well as help acquire and onboard new members.
Although the financial world is changing, credit unions have an obligation to their members to continue providing top-notch, personalized member services. The key will be how CUs can create intentional, well-planned digital member service and digital banking platforms that provide members with everything they need and want digitally, while still maintaining the personal touch that makes credit unions so special.
How to implement digital technology services
Fortunately, there are existing credit union core technologies geared towards helping credit unions create seamless, personalized online banking platforms.
FLEX has partnered with Glia, a leading provider in Digital Member Service which helps credit unions create high-quality DMS platforms. Together, FLEX and Glia offer a technology experience for CUs that will feature a unified digital member service experience.