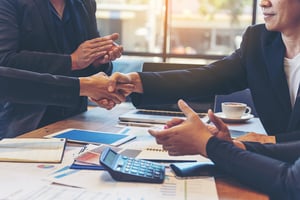 As a credit union, providing your community's small businesses with the deposit and lending products they need is imperative to all you do. But are you currently meeting their merchant services needs? It's a fair estimate that credit card processing is a vital cornerstone for most businesses. And if you're not offering your members merchant services, you're missing out on a huge opportunity to deepen the relationship and increase your credit union's wallet share.
The Competition for Deposits Is Heating Up
As dwindling deposits impact the financial services industry, credit unions may find themselves in a fight for every dollar. The general downturn in deposits can be directly related to more enticing returns offered by other institutions and other types of accounts. For example, healthcare spending accounts, money market funds, and high-yield savings accounts may offer members a better return than what traditional checking accounts can offer.
At the same time, fin-techs and digital-only banks are offering extremely attractive interest rates on deposit accounts. For instance, one online bank offered consumers deposit rates that were 25 times more than the industry average. Because of technology-driven efficiencies and lower overhead costs, these digital-only financial institutions are snatching deposits that have traditionally been the bread and butter of credit unions.
Merchant Services Can Generate Non-Interest Income
This rock and a hard place positioning can make it difficult to maintain liquidity and may even prevent you from leveraging the cheapest source of funding for loans. While there are a number of ways to compete for deposits, one often overlooked strategic growth strategy is utilizing a merchant services program.
Merchant services is a non-interest income generator that can help credit unions maintain their bottom lines. When you leverage a merchant services program, your credit union stands to open the door to deposits from public works, restaurants, hotels, hospitals, retail stores, online retailers, and any other facility that accepts credit card payments.
According to data from Elavon, members that use their merchant services have deposit balances that average twice as much as members who only have checking accounts. In terms of revenue, members with merchant services reportedly generate three times more than members who only have checking accounts. At the same time, members with merchant services are "stickier," averaging three solutions vs the two solutions of those with just checking accounts.
Starting a Merchant Services Program
Offering your business members a merchant services program can open the door to increased wallet share, improved member experience, increased revenue, and greater deposits. Simply put, it represents a true win-win, where the credit union and the member benefit tremendously. However, not all merchant account programs are created equally. Here are a few key considerations.
Make Sure to Offer a Positive Onboarding Experience
Ensure your members are set up for success with a strong onboarding program. The most effective merchant services onboarding initiatives prioritize the utilization of digital applications. At the same time, your merchant services onboarding program should be designed to reduce overall onboarding time and expedite the first date of deposit.
Continue to Deepen Relationships
Once you have a merchant services program in place, offering extra business solutions can further deepen the relationship and improve the member experience. Consider implementing credit card solutions like business and commercial cards.
Whether you have an existing merchant services program or are interested in offering members access, FLEX's credit union technology can help make processes easy and seamless.