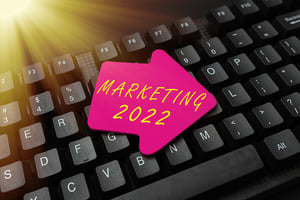 Credit unions encounter a variety of obstacles within the competitive financial landscape of today. As a result, CUs must remain one step ahead of their competition by consistently increasing their membership all while adapting to ever-changing expectations from diverse demographics. In order to contend for their territory in the financial sphere, they must implement intelligent marketing and cross-selling strategies that will appeal to their target audience, especially within the upcoming generation (Gen Z). Here are the latest trends on how to effectively market your products and services that will result in a thriving CU.
1. Digital Content
To engage with your members, you must produce valuable digital content on a regular basis. Whether it's a blog post, e-book, or video, you should be generating and sharing useful information that will convert prospects into members and keep your current members satisfied.
2. Personalized Experiences
People today love and expect customized suggestions, from Amazon's product recommendations to Spotify's curated personal playlists. As a credit union, you should be collecting member data and using it to create personal member profiles, which you can then match to the appropriate product or service offering. For example, CUs can analyze member transaction history and offer incentives to use their credit union card when they shop at a specific place (gift cards, rewards points, etc.).
3. Improving the In-Branch Experience
Your branch should be organized and modernized--not only in looks but in function. Try using technology that will allow you to digitize documents and limit your need for filing cabinets, which will create a more open and inviting environment. Update your interior design to freshen up the space. Add self-service kiosks to appeal to busy parents and shy Millennials. Above all, concentrate on providing the best member service possible!
4. Email and Social Media Marketing
You have to stay connected with your members, especially when there are so many other companies vying for their attention. Make sure to regularly communicate with them via email and social media. Doing so will keep them updated on your latest products, services, and upgrades, while simultaneously improving member engagement.
5. Chatbots
Invest in artificial intelligence chatbots to man your website which will help lessen the workload on your employees and provide better service to your members. These special bots offer speed and convenience to members who are looking for information online. Taking advantage of this type of technology can improve your overall efficiency and ultimately enhance member satisfaction.
6. Modern Technology
It's important to captivate the younger, more tech-savvy crowd, as they are the next generation of potential members. To do this successfully, you must bring in more digital tools. For example, you can incorporate eTellers to shorten in-branch wait times and offer easy form-signing through an electronic signing platform of your choice.
Market Your Credit Union With Confidence
Adopting the latest marketing trends is a surefire way to stay competitive. Some of the best things you can do are offer digital-based content and personalized interactions, focus on improving your in-branch experience, market through email and social media channels, utilize member service chatbots, and take advantage of modern technology.
Fortunately, there are plenty of automated and digital tools that can help you serve your member base, providing fast, convenient, and unique experiences that will attract members both young and old. Are you interested in a better-targeted marketing strategy for your CU? Download our Marketing eGuide today so you can start marketing smarter!