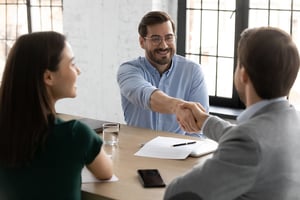 New members have high expectations from your credit union. In addition to the long-standing persona of excellent service, members are conditioned for faster, more frictionless experiences. And your ability to deliver begins with onboarding. Let's take a closer look at a few best-in-class ways credit unions can exceed the expectations of new members when it comes to onboarding.
Leverage Tech to Make Switching More Automatic
While some credit unions excel at signing up new members, their entire onboarding process may lack some of the essential options and steps for a new member to reap the most out of your credit union's products and services. If you do not have an effective onboarding and engagement strategy for new members, money and time are wasted in the form of high churn and low engagement. As such, it's imperative to leverage technology to facilitate a smooth and seamless onboarding experience.
One way to do just that is to employ automated account switching solutions, such as ClickSWITCH. ClickSWITCH is a smart and seamless process that makes it easier for members to switch to your credit union by assisting with recurring payments and deposits. In addition to ClickSWITCH, many other onboarding technologies can be integrated into your core system to facilitate a smooth onboarding process with all features offered by the core. In either case, it's important for credit unions to leverage technology to make the switching process as frictionless as possible.
Streamline Document Collection with Automated Workflows
When opening a new account, the number of required documents seems to continue to grow. Fortunately, you can use paperless technology coupled with digital and automated workflows to expedite the process—even as the requirements change. With the right workflow process, your credit union can establish different parameters that prompt credit union staff to request certain documentation based on the member's risk profile. By switching document collection to an automated work flow, you and new members will enjoy time savings and a more streamlined process. Most importantly, your credit union will aptly establish expectations and let the new member know what the requirements are up front.
Create Smarter Forms For Any Condition
The criteria you use to accept new members is unique. Whether it's based on where the member lives, where they work, volunteering affiliations, or any other criteria, it's important the member checks the appropriate box. You can use smart forms and conditional logic to quickly and efficiently determine member eligibility. For example, if a potential member affirms they live in Ogden, Utah, a smart form can present the appropriate fields to guide them through the enrollment process. On the other hand, if a potential member doesn't live in the coverage area, conditional fields could be populated to determine if they qualify for membership through other means. Using conditional logic and smart forms to verify eligibility can increase efficiency, streamline processes, and help facilitate an all-around more enjoyable onboarding experience.
Implement Automatic Member Identification Verification
Whether it's digital or in-person, member verification is a paramount component of onboarding. However, the traditional, in-person member verification processes are a thing of the past. Innovative credit unions use a completely digital member verification process.
To get started, a credit union employee initiates the process by sending the potential member a text message with a link that opens a secure session. The member can click the link, capture a selfie and an image of their ID, and upload the information through the secure session. Then, an artificial intelligence powered ID verification system will scan the two images in real-time to determine whether a match exists. When this system is coupled with innovative backend systems, your credit union can quickly establish a risk profile of the member.
With a Touch of Human
As a credit union, the power of the human touch can't be overstated and shouldn't be overlooked. Even with the implementation of innovative AI-powered smart forms, conditional logic, and machine learning, it's imperative employees are there to infuse a touch of human—when required. The best onboarding solutions shouldn't handcuff the human experience your credit union has mastered. Instead, it should enhance it in real-time by offering your employees more insights, more tools, and more autonomy to wow members at every turn.
Offer Members a World-Class Onboarding Experience with FLEX
With FLEX core technology, your credit union can offer a versatile onboarding experience to transform members into raving fans. Our open software is unique in that it can adapt and flex to meet the unique needs of your credit union and members to deliver the best onboarding experience possible. Ready to learn more? Check out our onboarding guide for best-in-class practices and solutions.