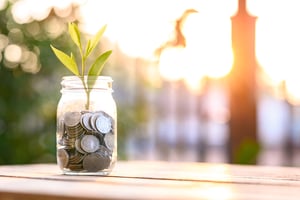 Credit union loan balances are growing steadily, increasing from 5.3% in 2020. Experts predict loans to escalate 9% each year in 2022 and 2023 after the economy returns to normal, infrastructure expenditure begins, and unemployment levels decrease. As loan balances continue to rise, credit unions are searching for strategies to increase direct lending that will boost profits and set the stage for cross-sales.
Organic Loan Success is Hard to Achieve
The consumer loan market is a dog-eat-dog arena, where credit unions are in a constant battle for the upper hand. The main obstacle is the fact that many credit unions are targeting the same people with identical product offerings, pricing models, advertising approaches, criteria, procedures, and delivery methods.
There are also many elements that influence organic loan growth, including:
The economy's current condition
Demographics of members (how many members are old enough to borrow, financial standing, attitudes about debt and loans, and ability to handle debt)
How much risk a credit union (CU) chooses to handle
How easily a CU can earn market share (through successful marketing techniques, the evolution of products and sales practices, and multiple distribution outlets)
To increase your organic loans in such an aggressively competitive space, you have to stand out from the crowd. Let's take a look at how you can increase direct lending.
Dive Deeper Into Data
Every credit union must study its target audience, and the best way to predict borrowing behavior is to examine data. Data analytics can help CUs proactively cut costs, view economic trends, generate new revenue, and manage risk, all while learning valuable information about members. For example, data can show you when one of your members suddenly withdrawals cash from their retirement or savings account. From here, you can take the necessary steps to find out why this happened.
Find a Niche Need
Look into the community you serve for opportunities. And don't underestimate the value of serving the underserved (undocumented immigrants, self-employed, etc.). Some examples include offering a small loan for immigrants applying for citizenship or a loan tailored to gig workers paired with expense management tools. In this age, credit unions must offer more than just a seamless, convenient digital platform; they need to offer empathy and services/products that improve members' financial standing. Ask yourself who you are serving and the reason why, and then design your loan strategy around that.
Make It Personal
Loan growth depends on your ability to recognize and meet your members' needs. After learning more about your members through data analytics, you can create personalized experiences. This personalization will build trust and result in more opportunities to cross-sell at different inflection points. Are they a first-time homebuyer? Or maybe they're looking to purchase a new vehicle. No matter the situation, you need to be prepared to be a one-stop-shop for all the products and services they need.
Dare to Be Different
Today's CUs should utilize audience data to the fullest, find uncharted market space, and personalize member experiences to stay competitive. Leveraging technology and data can help you find your niche and design unique products or services that make an impact on your community and beyond. Efficient core software may be the technology that stands between you and an influx in organic loans. To learn more about how new technology can impact your credit union's performance metrics, download "The Value of New Technology," a feature article we wrote for the 2022 Callahan Guide.