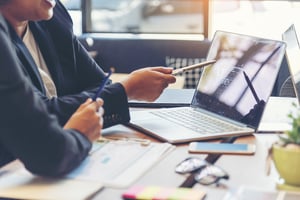 Digital transformation is no longer a buzzword that all the cool financial institutions are using. Instead, COVID-19 has escalated it from a nice-to-have, wishful thinking strategy into a must-have for credit unions to remain competitive. At the very heart of any effective digital transformation is a metamorphosis that transforms how your credit union interacts with members. In the act of doing so, it should modernize and simplify processes while generating efficiencies and improving KPIs, such as the credit union's efficiency ratio. While COVID-19 has escalated the importance of digital transformation, it has also highlighted key problems credit unions face.
COVID-19 Illuminated the State of the Credit Union
As we previously mentioned, COVID-19 advanced the timeline for many credit unions' digital transformation and data strategy. The majority of credit unions can be grouped into one of three categories:
Some credit unions were ready for digital transformation and only needed to flip the proverbial "switch."
Other credit unions were not as prepared to flip the switch, but did have robust plans in place.
A third group was completely unprepared with little to no digital transformation plans.
Where did your credit union land? Regardless of your answer, there is still a path forward to and through digital transformation.
Why Is Digital Transformation a Must-Have?
From in-person to virtual, the global pandemic transformed the manner in which we do business overnight. According to a FIS report, digital payment channels—such as tap-to-pay and digital wallets—quickly eclipsed cash transactions in 2020. Outside of the financial services industry, we have witnessed e-commerce spending skyrocket at 19% growth, which is the fastest pace in five years. Most research and projections suggest it's not slowing down. It is, in fact, expected to experience 60% growth by 2024.
At the same time, peer-to-peer (P2P) payments and ACH network payments have both eclipsed the previous year's rate of use, Specifically, ACH increased by 8.2% and P2P was up 41% in 2020 when compared to the previous year. In the end, the writing is on the wall: credit unions who are unable to engage in digital transformation initiatives to meet emerging member needs are subject to being left behind.
Digital Transformation is Important...But What's the Core Holdup?
In addition to the perceived associated costs, most credit unions lack the core technology and data infrastructure to facilitate this decade's version of digital transformation. Because of this, many credit unions were relegated to use quickly "bolted-on" third-party solutions from multiple vendors, which can worsen the efficiency ratio and create a host of security concerns.
In addition, many credit unions lack effective open application programming interfaces (APIs), which are designed to facilitate the connection and transfer of data between two disparate and separate software systems. In either case, the lack of the core technology can prevent credit unions from offering solutions most members expect:
Fortunately, FLEX core technology is tailor made for all credit unions.
FLEX Unlocks Digital Transformation in a Cost-Efficient Manner
As you can see, digital transformation is a requirement for credit union growth. Fortunately, the FLEX core data processing system is proven to significantly reduce operating costs, improve the efficiency ratio, and position your credit union for digital transformation success. We offer state-of-the-art core functionality that empowers you to deliver the world-class solutions your members want:
FLEXBridge open API that allows best-in-class connections to industry partners
Secure open architecture without the need for vendor support or accompanying overhead
Browser-based open architected system supporting tablets and PCs