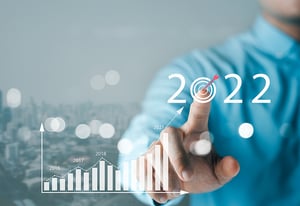 As the financial world fully embraces the digital-first approach, credit unions are unique in that physical branches still act as an important component of the growth strategy. Whether it's seasoned credit union members valuing face-to-face interactions with tellers or younger members looking for personalized guidance in purchasing a first home, there will almost always be a place for credit union branch transactions—as long as there is a space. Let's take a closer look at a few ways credit unions can incorporate the branch into your 2022's growth strategy and optimize every square inch for maximum ROI.
Capture the 1,000-Foot View of Your Branch Network
If you take a helicopter up between 500 and 1,000 feet, you will still be able to recognize everything you're seeing. However, you will gain a unique strategic view of it all. When it comes to optimizing your credit union's branch experience, it's important to start with the 1,000-foot view. In other words, the first step is to analyze your current credit union branch structure to learn whether each branch is meeting the needs of the community it serves. Here are a few questions you should ask:
Why are members of each community using their local branch?
What are the deposit and

loan performances

at each branch?
What is the demographic makeup of members in each branch?
Does any branch deviate from the broader standard demographic makeup?
Has the clientele demographics changed at branches because of COVID?
Is there one community or market that is extremely saturated with members?
Could this oversaturated community benefit from an additional branch?
Most importantly, you must be able to confidently answer whether each branch is on the forecast. Equipped with this key information, you'll be better suited to make the right growth decisions for 2022 and beyond.
Location, Location, Relocation?
Now that you have a clearer picture of your holistic and individual branch performance, it's time to get to work. Although certain branches may be doing well, other locations may be underperforming. And the goal is to make strategic decisions in 2022 to remedy this problem. Whether it's relocating underperforming branches or closing them entirely, inaction and hoping for the best isn't a strategy conducive to success.
Instead, the best course of action is to trust your data and allow it to guide your decision. For example, if you close or relocate an underperforming branch, the resources and assets could be reallocated to generate positive returns in a more conducive market. To understand where the resources should be allocated, look for markets where your ideal demographic is growing.
Yet, deciding to close or relocate a branch is an enormous decision with implications extending far into the future. As a result, many credit unions work with experienced consultants for more holistic market analysis and guidance through the process.
Rethink and Redesign to Reinvigorate
While credit union branches may have a reduced role, your physical locations are still a key component of member engagement and retention. And for 2022, one branch planning strategy could be to rethink, remodel, and reinvigorate the branch for a specific purpose in mind. According to one Financial Brand publication, enhancing the credit union branch as the local community advisory center can help it stand up and out against large retail banks.
Your branch should be the centralized community center where members open new accounts, apply for new loans, and access advice from a real person. To achieve this goal, the flow and aesthetics of your credit union are imperative. Besides, when a potential new member walks into a modern, well-thought-out space, it speaks volumes about the stewardship your credit union will provide members. Here are a few key attributes most functionally attractive credit unions share in common:
Spaces that are bright and well illuminated
Designated areas for privacy
Areas for advisory services that are less formal
A large welcoming entrance that leads to a more spacious area
Premium signage, materials, and branding that directly correlate with your credit union's brand
Comfortable furniture
Budgeting for Success
Even the most well-defined, data-based plan is useless if it lacks funding. As such, it's important to secure the necessary funding for all future projects. Ensure you properly communicate the full scope of the project and contingencies, so it can be properly funded. At the same time, it's imperative that decision-makers and stakeholders are in lockstep with the "why" behind each project and the desired outcomes. Creating a well-defined plan highlighted by actionable goals and benchmarks is key to unlocking the funds required for execution.
Educate and Inspire Employees
Your employees are the first line of defense for your credit union and brand. It only makes sense for sufficient time and effort to be dedicated toward education. Make sure your staff understands the branch growth strategy, why changes are being made, and their ultimate role in it all.
Keep in mind that a renovated branch may be a new experience for all, especially those who have been with the credit union for decades. As a result, it's important your staff understands how to perform their core duties and the intentions for each room or space. For example, if you have a new conference room, explain the ideal use cases, less-than-ideal applications, and the scenarios that should be avoided entirely. Very simply, once you've spent the time planning and effort executing the branch renovation or new branch, it would almost be a complete waste if each space wasn't used and optimized as intended.
Drive Efficient Credit Union Growth with FLEX Technology
At FLEX, our efficient core technology and data processing solution powers more than 250 credit unions across the country, including Hawaii, Alaska, and the Eastern Caribbean. All of our technologies are tailored to help credit unions drive efficient growth by increasing membership and maximizing every relationship. From member onboarding to creating personalized lending opportunities, FLEX empowers credit unions to do it all with ease. To see it in action for yourself, set up a brief demonstration of our core technology.