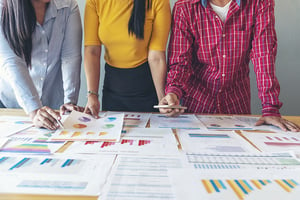 It's simple: Those who fail to plan are planning to fail. While this may not be a surprise or foreign concept, not all planning is created equal. As you begin entering strategic planning for the upcoming year, here are three key goals that should be on your credit union's roadmap.
Culture eats strategy for breakfast
The last couple of years have been hard on everyone, and credit unions have been no different. From the fear and uncertainty associated with COVID-19, the blink-of-an-eye shift to digitization, home school complications, and a tumultuous political environment, it's extremely hard to predict—or even fathom—what's next. No matter the case, your credit union must move forward.
One excellent way to get everyone in lockstep is to engage your members and staff with a renewed sense of optimism and purpose. While this approach may seem intangible and less concrete, focusing on the relationship aspects of organizational development and creating a vibrant culture can be the fuel that drives everything else. In other words, culture trumps strategy, every time.
Your culture is the invisible glue that holds your credit union together. However, this invisibility often prompts leaders to treat culture as a softer, less-important topic. Nothing can be farther from the truth. As such, you can amplify your planning session and year by creating a well-defined organizational purpose statement. An effective purpose statement can reposition the "why" for your credit union and place it front and center.
Creating a purpose statement with/on purpose
The organizational purpose statement is the overarching, motivating force that moves, guides, and delivers your credit union to a perceived goal. Your purpose is the fuel, force, bond, and intangible link that pulls your credit union together to achieve success. Very simply, your purpose is why your organization exists; and it is the quintessential component of your culture.
For example, any employee working at NASA back in the 1960s knew without a shadow of doubt the purpose was to get a man on the moon. What's your credit union's "moon shot?"
To develop a real purpose and reap its transformational effects, leaders must dig deep—deeper than ever before. This level of depth can't be left to clever words during a brief planning meeting. It mandates expertise to evaluate your credit union's cultural distinctions, unique strengths and overarching goals. And when you get it right, it can act as the yellow brick road to long-term, sustainable success.
Simplify, streamline, and focus on what really matters
Far too often, planning sessions result in laundry lists of hopeful projects. Yet, most teams are not properly equipped to manage deadlines, ROI, and results. At the end of the quarter or year, a fraction of those strategic initiatives have been completed. This can have a negative impact on everyone. Simply put, most people desire a sense of completion, which is why checklists are so effective and popular. It's psychologically and emotionally inspiring to see things through to completion and mark them off the proverbial list. Because of this, you can strategically target:
Low-hanging fruit projects that support larger initiatives,
Projects that yield measurable results, and
Initiatives that have an enterprise-wide impact.
One way to get into the right frame of mind is to ask "What are the most mission-critical initiatives that will bolster performance and key goals, such as improving member retention and adding value?" Discovering ways to prioritize operational vs. foundational projects is undoubtedly an art. Properly identifying project champions and freeing up their capacity by removing time-leaching workflows can allow them to focus on the projects that matter. And this can be one small step and a giant leap in the right direction at the same time.
Understand & delight your members
As a credit union, one of your key competitive advantages is your member service and relationship building. And this isn't just marketing or positioning. Since 2008, credit unions have outscored banks in the American Consumer Satisfaction Index (ACSI) by a substantial margin. However, in 2018, the two —banks and credit unions — were tied. In 2020, credit unions dropped 2.5% to a score of 77 out of 100, which meant credit unions trailed banks by a whole point. Even more alarming, this was the second year in a row credit unions ranked lower than banks in the ACSI survey.
Although the biggest drop in score was the "courtesy and helpfulness of tellers and other staff," most credit union executives cited this specific area as their top competitive advantage. To remedy this problem, credit unions need crystallized clarity on how to transition their culture of service from the call center and branch into the digital world. The key to this monumental door into the future is data.
How well do you know your members?
In a highly-digitized, data-first environment, your members expect you to know them. They have been conditioned with personalized solutions from popular video streaming platforms and almost every other service they use today. Why should their banking experience be any different? In 2022, getting to know and understand your members on a deeper level must be at the top of your strategic planning list. Specifically, you should seek to understand:
Where they are,
What they need,
Their pain points, and
How your credit union can help.
Harnessing member data points and insights while leveraging segmentation and personalization capabilities are the most important tech investments credit unions can make. However, most credit unions are light years behind in terms of technology and infrastructure. Without the necessary data, you are left guessing what your members really need and want. For instance, you should be able to answer:
While some of these questions can be answered by understanding key generational trends, it's important for your credit union to go beyond the surface to deepen relationships. To achieve these types of nimble decision-making advancements, you must leverage member data analytics for use in adapting actions and strategies. Unveiling valuable insights about your prospects and member lifestyles and needs are both key to personalization and being competitive in today's environment. Simply put, now is the time to place member data analytics front and center in your planning.
Gain the edge in 2022 with FLEX
As we head into 2022, the expectations for easier, faster, simpler, and more personalized experiences are at an all-time high. Does your credit union have the technology and infrastructure to thrive in this environment? Fortunately, FLEX can help. FLEX offers an array of tech-first solutions designed to differentiate your credit union with unique offerings that members want. Our core credit union technology has been integral in helping credit unions of all sizes thrive in the digital age, while elevating the digital and in-person member experience to the next level. Ready to learn more? Download our Member Onboarding eBook and Best Practices Guide.