Four Ways to Get Your Strategic Plan Back on Track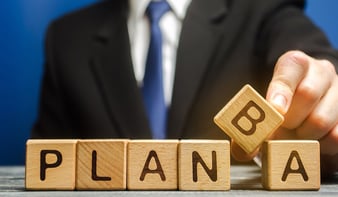 Developing a strategic plan is often a major project requiring the input and work of multiple people throughout your credit union. From analyzing the prior year's successes and shortcomings to setting new goals, objectives and the actions required to meet them, the strategic plan provides the roadmap to get your organization from point A to point B – efficiently and effectively. Or so you thought.
While you may have started out strong on the road to implementing your strategic plan at the beginning of 2020, the COVID-19 pandemic likely stopped you in your tracks with serious doubts that your credit union will meet any of the goals set out to be achieved this year. But, don't be too quick to throw in the towel. Now, as some of the coronavirus dust begins to settle and we approach the end of 2020, it's time to revisit the plan, make adjustments and set out on a new course.
Modifying your strategic plan can follow this four-step process:
Stop
Evaluate your strategic initiatives and consider hitting the brakes on those that are not growth-oriented. For instance, if increasing loans and growing your member base through implementing new core processor technology is on your list of initiatives, you should move forward with this strategy. Other growth strategies include those that focus on market penetration, market development, product development and product diversification. Strategies that are not tied to growth should be stopped.
Slow Down
The strategic initiatives included in your plan were there for a reason. They were viable tactics aimed at driving growth for your credit union. Rather than halting on these projects, you may simply need to slow the implementation timeline. For instance, plans to build new branches or implement new in-branch services should be slowed during this time when members are doing more online banking and utilizing digital services. An example of where not to slow would be ensuring your online and mobile banking services are operating at their highest efficiency.
Speed Up
Some strategic initiatives may need to be accelerated to meet the changing needs of your members during this time while the pandemic is calling for social distancing. For instance, if you had the rollout of a video banking service planned for end of year or on a list for consideration, the time is now to expedite this project. Your credit union's success is largely reliant on the technology you choose. Your core processing software should be creating more efficient processes. An evaluation of your core processor technology is one initiative to speed up to ensure it can keep up with evolving member needs.
Stay the Course
While stopping, slowing and speeding up strategic initiatives may be required for a large part of your plan, there are likely tactics that have remained relevant during these unprecedented times that you should carry out according to the plan. For example, an enhanced member service initiative should be executed as that will build stronger member loyalty. Marketing and branding initiatives can also be developed during this time to attract and retain members.
Don't look at the unique and unfortunate events of 2020 as a complete roadblock, rather a detour. Pull out your strategic plan and get to work on evaluating and adjusting your strategic initiatives and timelines in order to position your credit union for the best possible outcome for this year and beyond.