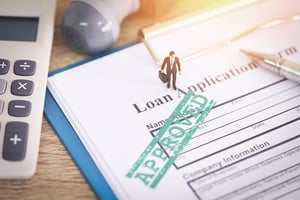 In these difficult economic times, it's important for credit unions to take advantage of the resources available to them, especially credit unions that serve low-income communities. After all, credit unions were founded on the core tenets of collaboration and helping the members of their communities, which means during times of crisis, members count on their CUs to deliver the service they need. That's why understanding what grant and loan programs are available and how to qualify can be key for credit unions.
One program available to qualifying credit unions is the Community Development Revolving Loan Fund (CDRLF). The CDRLF was designed to help low-income designated credit unions provide basic financial services to members of their community. The goal is to stimulate economic activity in the community by providing basic financial services such as low-interest loans and job opportunities for local youth. The program is funded by Congressional appropriations and administered by the National Credit Union Association (NCUA). Every year, the NCUA administers over $2 million dollars in grants and more in no-interest loans to qualifying CUs that take the time to apply.
Community loan development accomplishments and credit union eligibility
For a credit union to participate in the CDRLF program, it must be designated by the NCUA as a "low-income" credit union. That means the CU must have at least half of its members meet the requirement for low income—earning 80 percent less than the median income for the area where they live. The CUs that meet the requirements are given Low Income Designation status and become eligible to apply.
In previous years, over 300 CUs from all over the United States, the District of Columbia, the Virgin Islands and Puerto Rico received grant awards totaling nearly 2.5 million. These grants could be used to expand services to their communities, improve safety and cyber security, improve the CUs digital banking, train employees and give students work opportunities.
Listed below is more information about previous CDRLF grant years:
Applications. Over 1400 applications were received in 2016 from CUs around the country and world. In 2017 and 2018 there were fewer applications (415 and 243 respectively), but the grant money awarded to CUs remained about the same, 2.4 and 2.5 million in 2017 and 2018.
Cybersecurity. 112 grants were awarded to CUs to improve their security and protect member data and personal information. The grants totaled over $750,000.
Student internships. 33 grants were awarded to CUs to provide local students with work opportunities. The grants totaled over $125,000.
Employee training. 48 grants for staff training were awarded, totaling just over $125,000.
2020 was a tough year for credit unions. They faced not only the sudden shuttering of branches because of the coronavirus, but also the continued encroachment of fintech companies into the banking space. Being able to provide low-interest loans and seamless digital banking services to members will be crucial moving forward. So will staying alert and taking advantage of available resources.
How can my CU apply?
The NCUA recognizes the extreme hardships many CUs have faced, and continue to face, because of the virus. For this reason, they continue to offer additional measures to provide assistance to low-income credit unions in 2021. Qualifying Low-income-designated credit unions are now able for the grant to apply between May 3rd and June 26th.
If your CU is designated by the NCUA as a low-income CU, here are the steps to take to apply for a CDRLF grant:
The application for the grant can be completed online.
Your application will be reviewed by NCUA.
When NCUA makes their decision, your CU will be notified whether they've been tentatively approved or denied.
If approved, instructions will be provided to complete the required documentation.
It's important for credit unions to do everything they can to help members make it through these dire times. Applying for a CDRLF grant or other low-income grants from the NCUA is a beneficial way to provide your CU and members with the extra resources you both need.
Also, choosing the right credit union core provider can go a long way towards enhancing the products and services a credit union offers its members all while making you competitive in this crowded financial climate.
If you aren't sure whether or not your credit union is a low-income designated credit union, reach out to us and we'll be happy to assist you with the steps to know if you qualify.