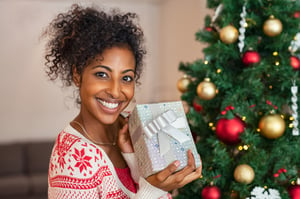 Office holiday parties often get a bad "wrap." The subject of many comedy films, as well as great fodder for water cooler gossip the day after, they can cause both anticipation and anxiety. But for managers and planners, it's important to remember the importance of these events for employee morale. Parties emphasize team spirit and can reinforce credit union culture. They are a good reflection on the credit union executive's leadership. Whether it's a large party where spouses and families are invited, a team building outing, or a holiday pot luck lunch, the important thing is to recognize employees and show appreciation. They should be part of your arsenal of employee engagement tools, but certainly not the only tool. Recently, Callahan & Associates presented five strategies to cultivate an engaged team that may spark some ideas for employee engagement year round:
1. Start With Why - Vision and Mission
Can all your team members clearly state your credit union's mission and vision, and understand not only your goals, but why those goals exist? Do they know their role in achieving those goals? Be sure to communicate regularly the big picture as to why your credit union exists and how every employee can work to bring your CU's principles to fruition.


2. Encourage Strategic Thinking
It's a widely accepted and proven business model: people support what they help create. Do you encourage team participation and idea sharing in planning meetings? Do you engage your team and ask opinions when it comes to choosing the right technology vendors? Do you listen when they share ideas on new product offerings? Not only is it crucial to encourage ideas and input, but taking that a step further, involve your team in figuring out solutions to member problems, or planning on how to meet targets and goals.

3. Track Performance
You can't measure what you don't track. Track goals and initiatives in a visible, easy-to-understand way. Break down annual goals into weekly and monthly objectives. Display these in break rooms or meeting rooms... use charts and graphics to keep it engaging. Recognize when goals are met and highlight those behaviors. When goals aren't met, don't point out what's wrong, but ask for more input on resolving.

4. Reward your Team
Yes, Office Holiday parties are one way to reward your team if you make it fun and convenient. If you want to motivate your employees year round, celebrate their successes by setting a budget for employee rewards. This doesn't always have to be monetary - remember, even a dress-down day can be viewed as a reward. So long as there are more meaningful ones for larger goal achievement.
5. Momentum
Success begets more success. Keep positive momentum going, but if you encounter small failures, don't give up. Stay positive and relay that in messaging, and employees will respond accordingly. Encourage a brainstorm session to look at different ways to reach the goals you fell short on. If appropriate, extend the time to achieve the goal or lower the goal a little so it doesn't feel unattainable.
An engaged team is a successful team. Use this time of year to celebrate successes and set goals for 2020 - not in a silo, but with an engaged team. Christmas can be a stressful time for members, with an errand list as long as Santa's beard, and mounting credit card bills. Celebrate the season with your employees, and they will return the favor by presenting a positive vibe to stressed-out members during this most wonderful time of year.