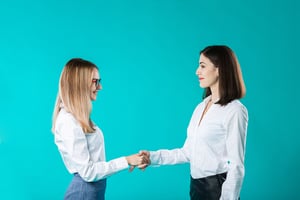 One of the most important components of running a successful credit union is maintaining healthy relationships with your members. Credit unions that nurture relationships through two-way communication, and by providing members with the services they want and need, tend to thrive.
Among the best ways for credit unions to cultivate relationships with existing members is through relationship pricing. Relationship pricing allows credit unions the chance to reward their loyal members through reward points, discounts, and other perks.
In the age of Coronavirus, credit unions must find ways to stay competitive. Recent studies implicate that rather than spending so much time and money attempting to attract new members, credit unions can have more success and a higher rate of conversions by offering products and services to existing members. By getting creative with how you service your members you can give your credit union a competitive edge and keep your members happy.
Different ways to reward your CU's members
There are so many banking options these days that implementing creative ways to retain members is more important than ever. With the influx of digital wallets like PayPal and Venmo drawing some members away from traditional banking options, it's even more important today that credit unions do not take their current members for granted.
In the current banking climate, members want to belong to credit unions that reward them for being members. Fortunately, there are a variety of tried and tested ways to offer such rewards.
Some of the most common and effective ways to reward your members include:
Waiving fees. CU's can offer loyal members free statements, wires, money orders, cashier checks, cash advances and more.
Credit card reward programs. These programs have been among the most popular and successful methods for credit unions to reward loyal members. When members make purchases using their credit or debit cards, they are rewarded with points that can be cashed in for gift cards, plane tickets or in some cases, cash back. Cash back programs not only incentivize members to use their cards, but they also make members feel like they are getting something back for being part of the institution.
ATM transactions. One way to reward members is by offering free ATM services, as well as perks like limit increases and rebates.
Special rates. Offering loyal members reduced loan interest rates is a great way to drum up new business.
Discounts. Any other services that can be discounted, such as safety deposit boxes, can be considered for relationship pricing.
Relationship pricing is a great way for credit unions to put their core values of cooperation, collaboration, and teamwork on display. While the obvious potential benefit of a successful relationship pricing plan includes increased business and company growth, it also helps to retain current members. This is more important than you might think. These days, many people use more than one financial institution and if they're not regularly engaged with a service, there's a chance they'll take their business elsewhere.
Many credit unions have chosen FLEX to run their relationship pricing program. One key benefit of using FLEX is that it automates the process, so that your staff is free to focus on other tasks. FLEX also specializes in building customizable programs that entice members to use the services that are crucial to your CU's success.
Relationship pricing can be complicated, but with FLEX your credit union can feel confident and take comfort in the fact you're doing everything you can do to satisfy your members.