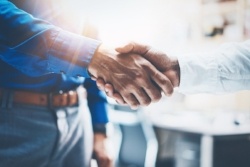 When someone does you wrong, it takes time to rebuild confidence in that relationship. Big banks are fighting hard to recover from sins of the past (like Wells Fargo and their new account debacle). Their recent commercials persuade the viewer to believe they deeply care, but let's not forget one of the main differentiators between banks and Credit Unions... Trust. Trust is earned from being trustworthy over a long period of time and can be built up not only through your credit union member services but in all aspects of your business. Emphasizing areas where members can see your CU is trustworthy will reinforce why they are with your credit union, not a big bank. Here are 5 ways to demonstrate trust with your members:
1. Listen to, then act on, their input.
Members don't join a credit union because they like being an anonymous number in a vault. They want to be part of the process. They want to be consulted about change. Find ways to check in with your members regularly and find out what they feel the CU is doing well or where there needs to be a change. An inflexible organization that doesn't listen, when that's one of the tenets of CUs, will be hard-pressed to keep the trust of their members.
2. Be involved in the community.
It's one thing to operate a business in a community, it's another to be actively involved in a community. Seeing your CUs name on banners at the local sports field or sponsoring a face painting booth at the local farmers market makes you feel like they are part of your world, not just another business. It shows that your credit union cares about its community, and that gives your members, and the community at large, a sense of togetherness and trust.
3. Give members options, not the option close.
The hard sell approach of option closing, like those used by big banks, can be off-putting. The option close is a typical sales tactic used to make the prospect feel like they only have two options, which both result in the prospect buying from the seller. sadly, this often times works on nieve buyers but none-the-less puts unnecessary and uncomfortable pressure on the receiving end. As part of your credit union member services, you need to sell more than just your checking and savings accounts. You need to be selling loans and credit cards and other interest bearing assets. However, the way your MSRs approach it should reflect that they see a need that they can fill, not another product to sell. If your members feel like their issues are understood and their financial burdens relieved by your services, then you build trust.
4. Know your members.
Was Cheers the best bar in Boston? The servers were not always the brightest or were too pre-occupied with their own lives to properly serve. Yet people always came back... because, as you know, it's where everybody knows your name. While depending on the size of your credit union it is most likely not feasible to remember every member's name, making an effort to get to know your members goes a long way to building loyalty. And always remind MSR's that while what they say is important, 93% of their interactions are perceived by tone, attitude and nonverbal cues.
5. Don't lie.
No brainer, right? Yet so many times people cover up their mistakes with lies. A mistake may erode trust, especially if often repeated. But a lie will completely break trust. Be as forthcoming as possible without instituting unnecessary fear.
The credit union difference is simple and clear. We offer a human experience in a profit driven, corporate world. We show our members they are part of our success. We show them we care about our community. We show them we understand their financial struggles and we have member services that can help them. While technology and service offerings used to lag behind the big banks, advancements in credit union software have leveled the playing field. By gaining our members' trust, we can offer a level of personal service that shows the credit union difference is all the difference.