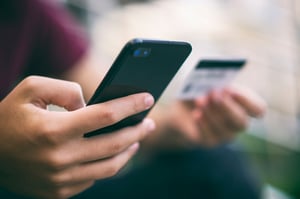 Making members aware of Credit Union digital products & services is half the battle. Members will use the tools that they know about and when branch hours are limited or eliminated members need to be aware of their options. When people are coming into the branch less frequently, be sure to keep sharing messaging in other ways to keep them aware of your offering.


Online Enrollment -

Clearly these times call for enhancing the way you offer your services to members. It's critical to make the online enrollment process simple and straight forward. Members may be looking for unique lending options, credit card programs, and more. It may not be the biggest rush for new membership, but it certainly wouldn't hurt to ensure your online enrollment is simple to use.
Remote Deposit Capture - Elderly members who are accustomed to frequent branch visits may find this feature beneficial to learn. It will require some patience and phone support, but can go a long way in member relations.
Bill Pay - Perhaps your members have been accustomed to paying bills by mail, but what was once a simple trip to the post office for stamps is no longer so simple. Educate your members on how easy it is to setup payment of their various accounts in your online and mobile banking apps.
Remote Controls for Cards - With everyone, even teenagers, at home, members may want to turn off some of their credit cards for a while, or limit the spend. Let members know about this security feature with your credit card programs.
Account-to-Account Transfers - Of course, nobody wants to dip into savings accounts, but desperate times may cause for such measures. Make sure members, already stressed from new financial burdens are aware that this can be a stress-free process with your online banking.
eSignature - Remind members how you have worked to simplify processes even before the Covid-19 crisis buy offering solutions such as eSignature, eliminating the need for multiple trips to your branch.
Secure Messaging - With secure messaging, members should not feel concerned with sharing confidential financial information with your CU.
Loan Modification & Advancing Loan Due Dates - The NCUA issued guidance encouraging credit unions to work with affected borrowers. One of the suggestions to help is to allow members to defer or skip loan payments, in particular those for open-end credit, like credit cards. Read our article: COVID-19 Advancing Loan Due Dates.
Check View - With tax season being delayed, some members may have pushed out their own to-do lists. Let them know that your online banking portal allows for them to "refresh their memory records" with images of past checks.
2-Factor Authentication (Account Security)

- Criminals lurk everywhere, and certainly are not taking a break due to this global pandemic. Put member's minds at ease with reassurances with your focus on security.