With Card Fraud Rising, Remote Control Debit Cards are a Must
How Remote Control Debit and Credit Cards Can Combat Fraud in Your Credit Union
Card data breaches in the US are at record highs: In the first six months of 2017, an estimated 791 data incidents occurred, coming in at 29% more than the same timeframe in 2016. According to the report in Forbes, we are on track to witness more than 1,500 total breaches in 2017... 37% higher than last year, which holds the current record of 1,093. The article highlights the worsening conditions for credit card holders: There are now online classes teaching hackers how to perform the cybercrime of "Carding." In a six-week program, taught in Russian, for $945 aspiring hackers can take 20 different lectures on finding legitimate credit card data for sale and hacking into PayPal accounts. Credit card fraud is estimated to cost $24 billion in 2018! Now more than ever your credit union must help shield members as best as you can from such dangers, and offering remote control cards to shut down access to their accounts when they are not using them is the first step.
While many debit and credit card companies and processors employ sophisticated back-end fraud detection systems, remote control cards is a technology that puts fraud prevention into the hands of your credit union members.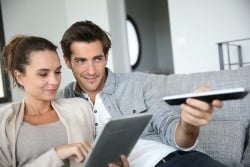 Innovation is alive within credit union core processing - and why wouldn't it be? Today, services like Uber and Lyft allow people to request a car and driver through their smartphone with the tap of a finger, so why should anyone have to sit on the phone to dispute a fraudulent debit or credit card charge?
The availability of mobile remote control apps is not new, even featured on NBC's Today Show as early as 2014. However, remote control credit cards and remote control debit cards do not require the use of an app which is separate from your credit union's mobile banking app. In fact, integrated mobile card management services are available from core providers for credit unions. FLEX takes this capability a step further...
FLEX Embeds Remote Control Card Capabilities
Embedding Remote Control Debit and Credit Cards into credit union core technology is precisely what Joe Foster, CEO of Hallco Community Credit Union in Gainesville, GA has done. "Today, with FLEX as our credit union technology partner, our members have mobile remote control for their debit and credit cards. This provides my members with the ability to stop fraud and enjoy peace of mind when using their Hallco Community CU debit and credit cards," said Foster.
Through FLEX mobile banking, members of Hallco Community Credit Union have the ability to turn their card "off" with the tap of a finger. This is a great option if members fear fraudulent activity, or if they are leaving the country for an extended period of time and will not need to use their card. If the card is turned "off", members would then have the option to turn the card back "on" or to request a card reissue.
This mobile remote control system interacts directly with Hallco Community Credit Union's core processing system real-time, allowing not only members but also member service reps the ability to view status reports and card management on the back-end. Foster continues: "With the combination of enhanced eAlerts and mobile apps, our members are able to use mobile remote controls to stop fraud."
For more information regarding Hallco Community Credit Union please visit https://www.hallcocu.org